Help Your Employees Navigate the Retirement Journey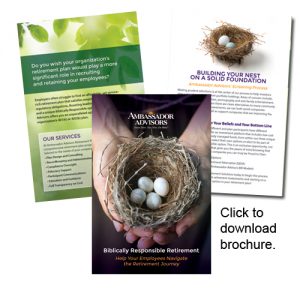 Do you wish your organization's retirement plan would play a more significant role in recruiting and retaining your employees?
Employers often struggle to find an affordable, yet service-rich retirement plan that satisfies employees, while meeting regulatory obligations. Boasting leading-edge technology and unique Biblically Responsible Investment options, Ambassador Advisors offers you an unparalleled option for your organization's 401(k) or 403(b) plan.
Ambassador Advisors Retirement Plan Services offers:
Plan Design and Consulting
Recordkeeping and Administration
Compliance Oversight
Fiduciary Support
Participant Communications
Education and Guidance
Do you wish that the retirement plan which safeguards your employees' nest eggs would also align with your personal faith and moral values, while maintaining the highest standard of fiduciary duty?
We believe followers of Christ should have the opportunity to invest their resources in a manner that is in alignment with their values. Over the years, we have found that many employers believe there is a prohibition against using Biblically Responsible Investing (BRI) strategies within an ERISA-covered plan. There is no prohibition against investing in a biblically responsible manner, and using one does not mean you and your employees have to sacrifice performance.
Ambassador Advisors' Screening Process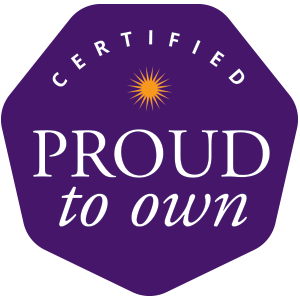 Making prudent selections is at the center of our process to help investors view a moral snapshot of their portfolio holdings. Areas of concern include, but are not limited to, abortion, pornography and anti-family entertainment. You may be surprised to learn there are clean alternatives to many commonly held funds. By vetting our investments, we can both avoid companies damaging our society, as well as support companies that are improving the world around us.
WHAT WE OFFER
Ambassador Advisors Retirement Plan Services' value-added offerings for each employee benefit business owners. As an enhancement to the company's overall benefits package, we offer education modules to employees and spouses related to:
legal and financial matters
529 educational savings plans
tax-wise charitable giving strategies
In addition, we meet with your employee to show them how their plan performed in context with overall market performance.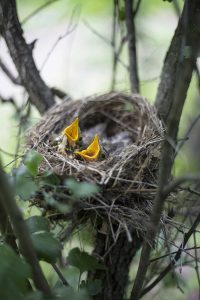 Investment Solutions Tailored for Your Beliefs and Your Bottom Line
Option 1 – Participant-Directed Options
Option 2 – Qualified Default Investment Alternative (QDIA)
Option 3 – Managed Portfolios (Ambassador Advisors BRI Models)
Call Curt Stolzfus of Ambassador Advisors Retirement Solutions today at 888-701-9201 or email him at CStoltzfus@ambassadoradvisors.com to begin the process of screening your organization's retirement investments and starting on a path to a biblically responsible option in your retirement plan!
Schedule Your Free Consultation
Once we receive your request, we will contact you to schedule an appointment.
Or if you prefer to schedule by phone, call us at 717-560-8300.