If you're seeking a challenging career that provides you with an opportunity to serve others every day, a position at Ambassador Advisors could be for you. The Advisors at Ambassador offer investment and stewardship counsel to families, businesses, churches and other nonprofit organizations throughout the region, helping these faithful stewards DO MORE with their resources.
To apply for a certain position, please click the application link for that position. If you have a general question for our Team Development department, please send it to teamdev@ambassadoradvisors.com.
Associate Portfolio Manager
WHO WE ARE
Ambassador Advisors, a Christian financial planning firm in Lancaster, Pennsylvania, is currently seeking a full-time Associate Portfolio Manager with a minimum of five years' experience in investment/portfolio management. Branch offices are located in PA, NY and FL.
GAIN EXPERIENCE
The individual will work with the firm's Wealth Management Committee, Senior Portfolio Manager, financial strategies department, financial advisors and clients. Responsibilities include trading, account rebalancing, research, portfolio analysis, performance analysis and investment strategy. The individual will need to be responsive to client questions and build trusted relationships with financial advisors and retail investors. The individual will serve on the Wealth Management Committee and will prepare reports for the committee regarding the status of managed client accounts.
UPWARD MOBILITY
Along with strong written and verbal skills, the Associate Portfolio Manager is encouraged to use creativity, generate ideas and be a positive contributor to the firm. A natural curiosity and willingness to learn and improve processes is essential. This team member's future includes opportunities for leadership and growth.
SKILLS NEEDED
The preferred candidate will be a CFA or CFA candidate, and will have: familiarity with Capital Markets, technology and advanced understanding of the MS office suite (especially Excel), experience with Portfolio creation and implementation, and knowledge of Bloomberg.
Please apply, please fill out this online application.
---
Client Relationship Manager
Ambassador Advisors, a Christian advisory firm, is currently seeking a full-time Client Relationship Manager with a minimum of three years experience in finance and investments. The person in the position provides key support to clients and financial advisors. Series 7 and 66 broker licensing required (currently have or achieve within three months of hire). The position would be a good fit for someone who is entrepreneurial, a team player, proactive, tech-savvy, and detail-oriented. There is a high volume of client phone calls to answer client questions relating to their accounts and financial plan. There will be a low-to-medium volume of client meetings. For the right candidate, this position offers a rare opportunity for potential growth and control over your compensation potential.
To apply, please click this link.
---
Associate Financial Advisor
Binghamton, NY | Lancaster, PA | Danville, PA
The ideal candidate is:
Innately entrepreneurial, with a desire to go where opportunity is and increase a book of business
Motivated by serving and using his or her talents to help others
Committed to excellence and integrity
An asset to the workplace, because of his or her upbeat personality
Experienced in sales with a track record of success (preferably financial advising with an established book of business)
The benefits of working at our firm include:
A unique business development model – no "cold calls"
Some of the best resources and specialists in the industry
Leaders and team members who take a personal interest in your career success and ministry goals
Competitive compensation package that rewards success and encourages teamwork
Christian atmosphere and central focus
To apply, please click this link.
---
The Ambassador Experience
---
Corporate Mission, Vision, and Values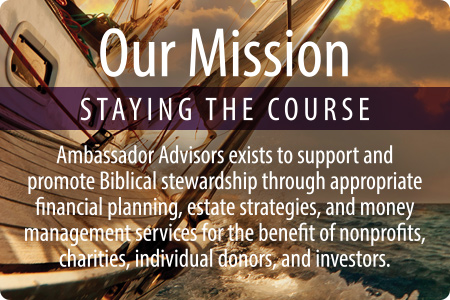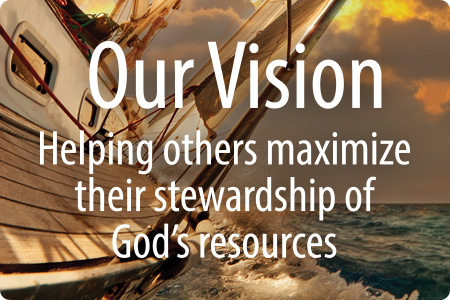 OUR VALUES
At Ambassador Advisors, we believe in…
Following God
Our highest value is knowing our Creator through His Son, Jesus Christ; we strive to love Him with all our heart and follow His command to love our neighbors as ourselves.
Teaching Stewardship
We aim to responsibly approach our fiscal and regulatory duties, accept and respect the process and authorities, and conscientiously handle the resources entrusted to us by God and our clients.
Demonstrating Expertise
We strive for excellence in serving our clients and fellow team members. To this end our team participates in industry-specific educational programs and maintains the appropriate credentials so that we are prepared to give the best possible advice.
Exemplifying Integrity
We endeavor to act and communicate with credibility, truth, and trust in all business interactions; we demonstrate a repentant attitude if we fail and a forgiving attitude if others do.
Fostering Teamwork
We do our best to collaborate with peers, co-workers, and leadership to perform our duties with excellence, subordinating any personal agenda to the mission of Ambassador Advisors; members of our team forthrightly treat others as they themselves would like to be treated.
Enriching Relationships
We do our utmost to establish and maintain great relationships by providing expertise and good service to our clients and those they cherish.
---
The Ambassador Quarterly Magazine