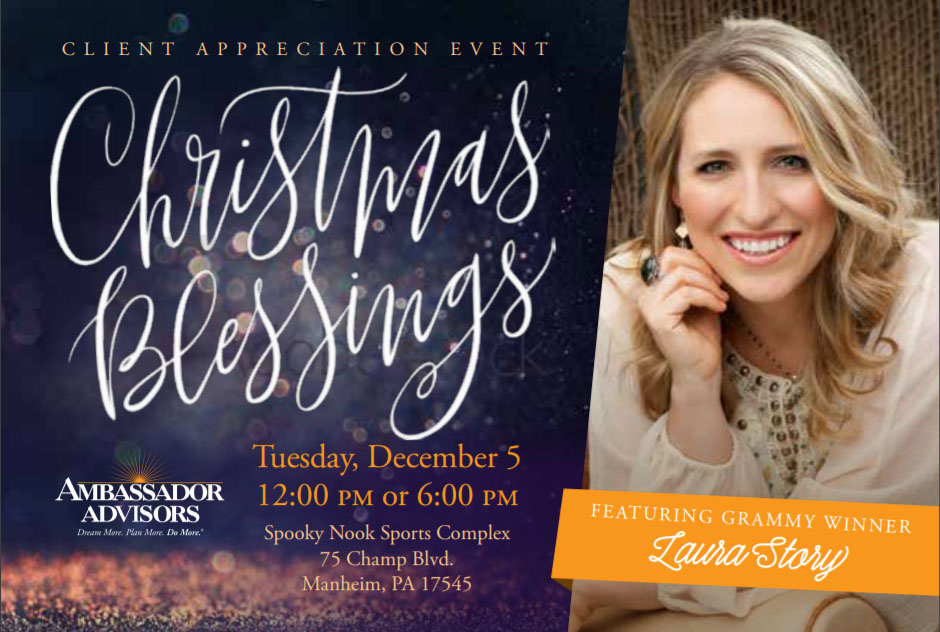 Online Registration is now closed.
---
Spooky Nook Sports Complex
Use Address 75 Champ Blvd., Manheim, PA
Please enter through the main entrance, not The Warehouse hotel.
12:00 pm lunch or 6:00 pm dinner
Shuttle service will be available within the parking lot.
---
We look forward to celebrating this holiday season together with you, our valued clients and friends. We invite you to participate in a short, informative financial presentation, and enjoy a delicious meal. Joining us this year is special guest GRAMMY winner Laura Story.
Since the release of her solo debut in 2008, Story has amassed a GRAMMY® Award, a Billboard Music Award, multiple GMA Dove Awards and an RIAA Gold certification for her massive No. 1 hit Blessings. Laura has led worship at Atlanta's Perimeter Church for the past 12 years. In addition, she's also the author of two books, including the latest, When God Doesn't Fix It.
Meal Selections
Cinnamon Poached Salmon & Braised Beef, Butternut Squash Risotto with Sautéed Garlic Kale (Gluten Free)
Eggplant Stuffed Pepper with Braised Lentil Stuffed Cabbage (Gluten Free, Dairy Free, Vegetarian)