The Federal Communication Commission and the United States Attorney General's office has issued a new warning concerning a growing wave of Social Security Administration telephone scam calls. Ambassador Advisors wants to share this information to help protect our clients and their families.
This newest scam involves a fake SSA agent calling to tell you that your social security number has been suspended because of suspicious activity that is connected to a serious crime. In most instances, that serious crime involves drug trafficking linked to bank accounts opened with your Social Security number.
That call may sound like this:
In this latest version of this fraudulent phone call, the caller claims to be an agent for the Social Security Administration who is investigating multiple crimes committed connected to accounts created using your social security number. The scariest of these accusations is that these accounts have been connected to a major drug cartel or many drugs that have been seized by the DEA.
These scammers are very good at what they do. Scammers can create an atmosphere of fear over the phone and quickly make you believe that you are facing prosecution. They then gather some basic information from you and quickly become your friend, saying that you only need to provide your social security number and bank account information to avoid arrest. It all happens so fast that the average consumer often doesn't know what hit them.
These scams are not new, but the frequency of them is on the rise.
This scam is reminiscent of the IRS imposter wave that began around 2013 when scammers began impersonating IRS officials warning people that they would not get a tax refund unless they verified their social security number.
In 2017 close to 3200 people reported Social Security Administration imposter scams with a loss of nearly $210,000. So far in 2019, there were over 76,000 reports filed regarding Social Security imposters with losses close to 10 million dollars. The graph below shows how this latest scam is on the rise as the IRS scam that was popular a few years ago is in decline.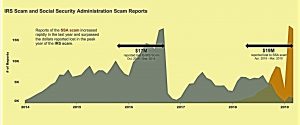 Here are some things you should remember:
The real phone number to the Social Security Administration number office is one 800-772-1213. Knowing this number may not protect you, as the scammers have learned how to spoof the real SSA number on your caller ID.
Never give away your social security number or other personal information unless you have made the call yourself.
Always feel free to call the Social Security Administration at 800-772-1213 to find out any information on your social security number.
Talk about this with your friends. You may learn new things, and you will help others by making them aware of your experiences.
The Social Security Administration will never call to threaten your benefits or tell you to wire money or send cash. Anyone who does this is a scammer.
Never give any part of your Social Security number to anyone who contacts you. This also goes for your bank account and any credit card number that you may have.
Always trust your instincts and err on the side of caution when dealing with personal information. If you do receive a Social Security Administration scam call, hang up immediately and dial the Social Security Administration at 800-772-1213 and speak to someone in the fraud department. Whatever you do, never give out personal information over the phone and always question anyone who asks for any information that seems unnecessary. It is always better to be safe than sorry. These criminals are targeting younger victims as well as seniors. Please discuss this with your family so everyone knows what to look for if a scammer calls.
If you have questions or if you think you've been compromised, contact Ambassador Advisors today to discuss next steps.
Any opinions expressed in this forum are not the opinion or view of American Portfolios Financial Services, Inc. (APFS) or American Portfolios Advisors, Inc.(APA) and have not been reviewed by the firm for completeness or accuracy. These opinions are subject to change at any time without notice. Any comments or postings are provided for informational purposes only and do not constitute an offer or a recommendation to buy or sell securities or other financial instruments. Readers should conduct their own review and exercise judgment prior to investing. Investments are not guaranteed, involve risk and may result in a loss of principal. Past performance does not guarantee future results. Investments are not suitable for all types of investors. To the extent that this material concerns tax matters, it is not intended or written to be used, and cannot be used, by a taxpayer for the purposes of avoiding penalties that may be imposed by law. Each tax payer should seek tax, legal or accounting advice from a tax professional based on his/her individual circumstances.