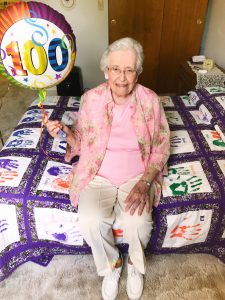 Ambassador Advisors is pleased to recognize the very special centennial birthday of our client Mary Hannum. Mary was born in western Philadelphia on June 9, 1917, while our world was embroiled in the trenches of The Great War.
One hundred years later, many things have changed. Mary attended Pennsylvania Bible Institute, now Cairn University. She worked for the Insurance Company of North America as a typist. The company policy, at that time, was that a woman could only work for 3 months after she got married. Mary was married in May, but the company extended her "forced retirement" until December.
Mary has lived a life of faith. Her favorite Bible verse is Philippians 4:8: "Finally, brothers, whatever is true, whatever is noble, whatever is right, whatever is pure, whatever is lovely, whatever is admirable – if anything is excellent or praiseworthy – think about such things." Mary taught Sunday School for 28 years and loves to sing in the choir, particularly her favorite hymn, "Great is Thy Faithfulness."
To celebrate this special birthday, Mary's family made her a quilt with their handprints and names, pictured here. Mary was married for 46 years and has 4 children, 15 grandchildren, 34 great-grandchildren, and 8 great-great-grandchildren!
Ambassador Advisors is proud to help Mary manage her finances. She's lived a frugal life, only buying what she could pay for. The only debt that she's ever taken on was a mortgage! We wish Mary many more birthdays, but we did want to share a joke she made about her confidence for what lies ahead: "I am not looking for the undertaker, I am looking for the uppertaker!"
Ambassador Advisors is a Registered Investment Advisor. Securities offered through American Portfolios Financial Services, Inc. of Holbrook, NY, 631-439-4600 (APFS), member FINRA, SIPC. Investment Advisory Services offered through Ambassador Advisors, LLC. Ambassador Advisors is not owned or operated by APFS. To determine which college saving option is right for you, please consult your tax and accounting advisors. Neither APFS nor its affiliates or financial professionals provide tax, legal or accounting advice. Please carefully consider investment objectives, risks, charges, and expenses before investing. For this and other information about municipal fund securities, please obtain an offering statement and read it carefully before you invest. Investments in 529 college savings plans are neither FDIC insured nor guaranteed and may lose value.
Any opinions expressed in this forum are not the opinion or view of Ambassador Advisors or American Portfolios Financial Services, Inc. (APFS). They have not been reviewed by either firm for completeness or accuracy. These opinions are subject to change at any time without notice. Any comments or postings are provided for informational purposes only and do not constitute an offer or a recommendation to buy or sell securities or other financial instruments. Readers should conduct their own review and exercise judgment prior to investing. Investments are not guaranteed, involve risk and may result in a loss of principal. Past performance does not guarantee future results. Investments are not suitable for all types of investors.
This material is for informational purposes only. Neither APFS nor its Representatives provide tax, legal or accounting advice. Please consult your own tax, legal or accounting professional before making any decisions.
Check the background of this Investment Professional
https://brokercheck.finra.org/