May is Disability Insurance Awareness Month. Each year, The Council for Disability Awareness joins forces with others in the insurance industry to raise awareness about the importance of income protection. The tools and resources on their campaign website are designed to help consumers, advisors, employers, and anyone else interested in understanding the need for every American to protect his or her income. Below, is what you need to know about the chances of disability.
What are your chances of being disabled?
Higher than you probably think. You can ignore the problem, but it's hard to ignore the facts:
Just over 1 in 4 of today's 20 year-olds will become disabled before they retire.
Accidents are NOT usually the culprit. Back injuries, cancer, heart disease and other illnesses cause the majority of long-term absences.
Are you prepared if it happens to you?
Probably not. If you're like most Americans, you don't have disability insurance or enough emergency savings to last 34.6 months, which is the average duration of a long-term disability claim.
If you become disabled, will you be ready? Or will you and your loved ones face serious financial hardship, possibly foreclosure and even bankruptcy? The Council for Disability Awareness has good news, the CDA can help you prepare for disability the same way you plan for other emergencies.
What are the most common causes of disability?
Injuries at work? Freak accidents? It's true, they happen. But the truth might surprise you:
Illnesses like cancer, heart attacks or diabetes, cause the majority of long-term disabilities. Back pain, injuries, and arthritis are also significant causes.
Most are not work-related, and therefore not covered by workers' compensation.
Lifestyle choices and personal behavior that lead to obesity are becoming major contributing factors.
Musculoskeletal disorders are the #1 cause of disabilities. Examples include: arthritis, back pain, spine/joint disorders, fibromyositis, etc.
Disability in America
Disability is already a widespread problem, and the threat is growing at an alarming rate:
More than 30 million Americans between the ages of 21 and 64 are disabled, according to the most recent U.S. Census.
2.4 million people filed disability claims with Social Security in 2015.
25+ million American lives are restricted by the effects of disability, according to the Centers for Disease Control and Prevention.
Disability Statistics
Working Americans underestimate their risk of disability:
64% of wage earners believe they have a 2% or less chance of being disabled for 3 months or more during their working career.1 The actual odds for a worker entering the workforce today are about 25%.2
Most working Americans estimate that their own chances of experiencing a long-term disability are substantially lower than that of the average worker.1
Most American workers' incomes are not protected:
About 100 million workers are without private disability income insurance.2
69% of workers in the private sector have no private long-term disability insurance.2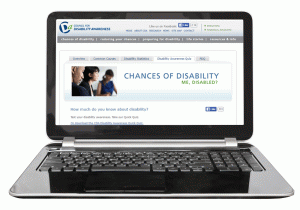 Visit CDA's website to find out what YOUR chances of not being able to earn an income are. They call it your Personal Disability Quotient (PDQ). It's a way to calculate your odds of an injury or illness and to also give you some tips on how you can prevent disability from downgrading your lifestyle and devastating your savings.
http://disabilitycanhappen.org/chances_disability/pdq.asp
1. Council for Disability Awareness, Disability Divide Consumer Disability Awareness Study, 2010
2. U.S. Social Security Administration, Fact Sheet February 7, 2013
3. Council for Disability Awareness, Long-Term Disability Claims Review, 2012
Original source: Council for Disability Awareness http://disabilitycanhappen.org/
Ambassador Advisors is a Registered Investment Advisor. Securities offered through American Portfolios Financial Services, Inc. of Holbrook, NY, 631-439-4600 (APFS), member FINRA, SIPC. Investment Advisory Services offered through Ambassador Advisors, LLC. Ambassador Advisors is not owned or operated by APFS.
Any opinions expressed in this forum are not the opinion or view of Ambassador Advisors or American Portfolios Financial Services, Inc. (APFS). They have not been reviewed by either firm for completeness or accuracy. These opinions are subject to change at any time without notice. Any comments or postings are provided for informational purposes only and do not constitute an offer or a recommendation to buy or sell securities or other financial instruments. Readers should conduct their own review and exercise judgment prior to investing. Investments are not guaranteed, involve risk and may result in a loss of principal. Past performance does not guarantee future results. Investments are not suitable for all types of investors.