Family Legacy Journey
Posted on: June 30, 2015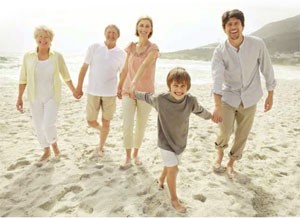 One of the most precious things you can leave your children is the memory of meaningful times shared together. These memories are one of lasting communication between you and your loved ones. As you plan for the time you may no longer be with your children, it is important to consider another form of communication for which they will be forever grateful. The Ambassador Advisors Family Legacy Journey is a unique process that, when completed, enables you to leave your children a "message of caring" to provide them essential guidance in handling your affairs after you are no longer able.
1. Family Legacy Seminar
Knowledge is the first step in any good legacy plan. Our informative presentation shares the value of involving your
family in the Family Legacy Journey. Contact us for a location nearest you.
2. Family Legacy Online Survey
Once you are ready to move forward, you are invited to log on to our website and input key information about your legacy plans. The survey results are compiled into a RoadMap that can be used to guide your family members.
3. Family Legacy Notebook
Ambassador Advisors will create your Notebook and provide critical feedback, if needed. Your Notebook is yours to keep and share with your family members.
We recommend that you store it in a safe place, along with other important legal documents, such as your Will and Power of Attorney.
4. Family Legacy Analysis & Recommendations
Once you've received your Notebook, further analysis and recommendations may be desired. An additional meeting can assist you in delving deeper into areas of your legacy that might concern you or where careful and insightful planning might enhance your Notebook.