The Fed and Interest Rates
Posted on: September 12, 2016
In the news
Bank deposits and treasury securities remain at their lowest levels in fifty years. Empty promises from the Fed surrounding rate hikes in the last year caused investors to tire of waiting and begin investing as if rates would stay lower for longer. That has been a good thing for most appreciation.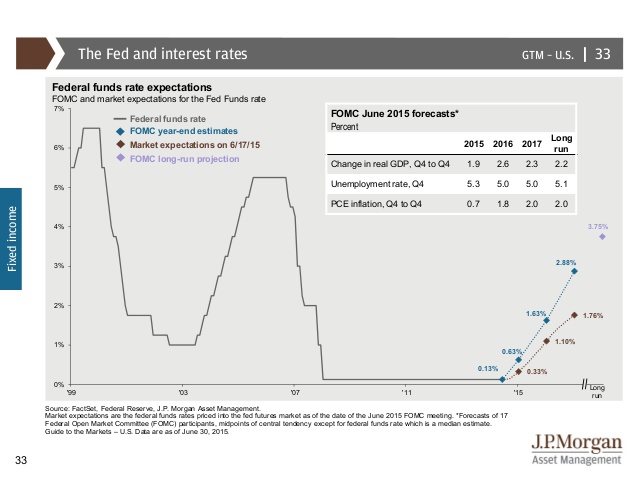 Our take
Investors continue to look for a return to traditional rates, but, our economy has been stubbornly stuck in a below average growth rate, with foreign economies joining in the malaise. Some Interest rates in other developed countries have even sunk below ours. The Fed remains at an impasse: raising rates in the U.S. could bring money flows back to the dollar, as investors from around the globe seek yield and safety. However, a strong dollar could threaten the U.S. economy even further.
What to do
We feel the worldwide reduction in rates were another example of "how the U.S. goes, so goes the world." It will likely take a worldwide reversal of interest rate policy to undo what has been done, and foreign governments do not seem ready to change policy at this point in time. That said, continued growth in the markets and the U.S. economy, albeit meager, could be a recipe for the Fed to act. So, even though many may be giving up on rate increases, we feel it is wise to continue to protect against principal losses that occur in longer term bonds when interest rates finally do rise.
Ambassador Advisors is a Registered Investment Advisor. Securities offered through American Portfolios Financial Services, Inc. of Holbrook, NY, 631-439-4600 (APFS), member FINRA, SIPC. Investment Advisory Services offered through Ambassador Advisors, LLC. Ambassador Advisors is not owned or operated by APFS.
Any opinions expressed in this forum are not the opinion or view of Ambassador Advisors or American Portfolios Financial Services, Inc. (APFS). They have not been reviewed by either firm for completeness or accuracy. These opinions are subject to change at any time without notice. Any comments or postings are provided for informational purposes only and do not constitute an offer or a recommendation to buy or sell securities or other financial instruments. Readers should conduct their own review and exercise judgment prior to investing. Investments are not guaranteed, involve risk and may result in a loss of principal. Past performance does not guarantee future results. Investments are not suitable for all types of investors.