Financially Preparing for a New Arrival
Posted on: June 1, 2022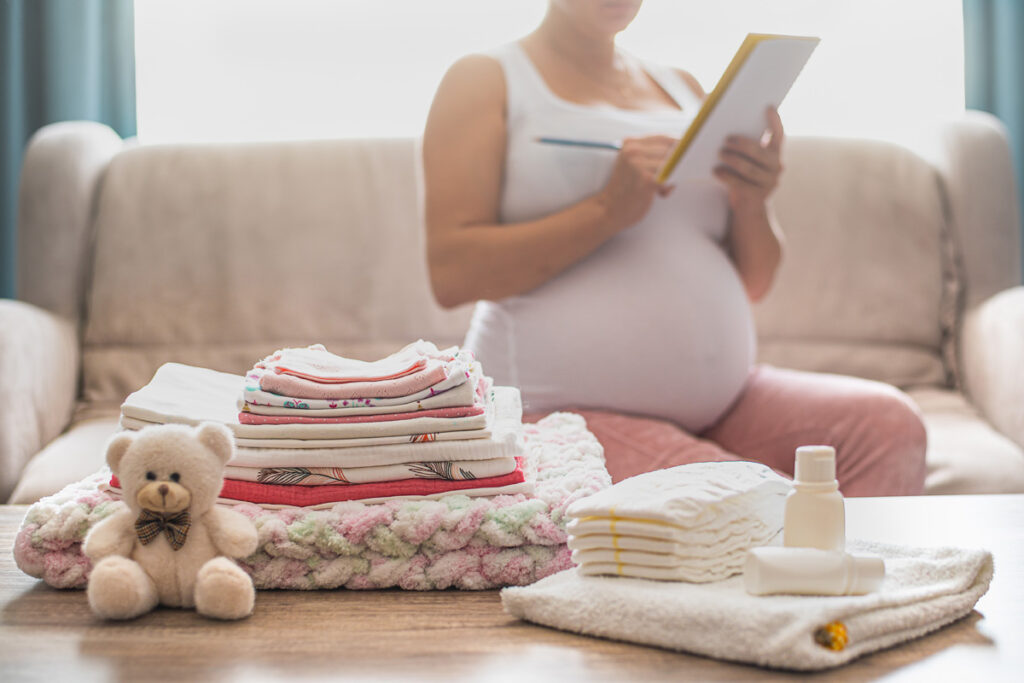 When preparing to add a new baby to the family, you may find a seemingly infinite number of tasks on your to-do list: set up the nursery, install the car seat, pack the hospital bags, and more. As you prepare for the physical presence of a baby, it is vital to also anticipate the financial changes a baby may bring to the family.
According to the USDA, a new baby costs a family, on average, $13,000 per year. That figure includes everything from diapers to childcare expenses, and the figure is on the rise. A box of 100 diapers can now cost as much as $50. Other expenses to consider may include a change in housing or a bigger car. Given all this, there may not be a more important time to review your budget. Can you eat out less often? Are there extra streaming services you do not need? What about that gym membership you signed up for two years ago but rarely actually use? All of these things should be evaluated, as you prepare for your baby.
In addition to budgeting, there are several other key financial matters to get in order, prior to the child's arrival. Couples should have at least some life insurance on both mom and dad, even if only one of you plans to work full-time. If tragedy were to strike the stay-at-home parent, the family would still incur funeral costs, as well as the cost of replacement childcare (which can be very expensive). As a rule, it is a good idea to have enough life insurance to pay off any debt, as well as replace any income lost by the late spouse.
Another item which should be discussed prior to the arrival of the baby is health insurance. If both mom and dad are on separate healthcare plans through their respective employers, it may be beneficial to determine ahead of time which policy will have the newborn added upon birth or adoption. The addition of a child is considered a "qualified event," and parents have 30 days to add the baby to their healthcare plan. This is a critical window. Make sure it is on your list of things to do in the first few weeks with your baby to avoid incurring high and unnecessary healthcare expenses.
When you expand your family, it is also important to update your legal documents, such as your Will and Power of Attorney. This does not necessarily need to be done before the child is born, but it should happen very soon after. Have you decided who the guardian of your child would be in the event of your passing? And has that person committed to serving in that role? Once these pieces have been decided, work with your attorney to secure them in writing as soon as possible. Furthermore, it is a good idea to consider setting up a testamentary trust to hold the assets for your child's benefit until he or she reaches an age you feel he/she will be a good steward of these dollars. Children are not able inherit assets until the age of majority, but if you do not decide who will retain control until then, the court will do so on your behalf. A trust can be very flexible, allowing you to spread out the receipt of funds over later dates, such as one-third of all assets each at ages 25, 30, and 35. It will also take care of the necessities of life and provide educational funding, as needed. Once the trust is set up, it can apply not just to your first child but all future children. You can work with your financial advisor to list the trust as the beneficiary on assets such as 401(k)s or IRAs that bypass the Will, making whatever rules you set up apply to all of your assets and not just those that pass through probate.
Finally, it is never too early to consider saving for your child's future. Talk to your financial advisor about opening a 529 account for your new baby's future education. Early set up will maximize the benefits of such an account. These accounts allow for tax-free growth and withdrawals (as long as withdrawals are used for educational expenses). These expenses are no longer limited to college; up to $10,000 a year can be withdrawn to cover private school or homeschooling expenses for kindergarten through 12th grade, and if a child receives a scholarship for tuition, you may apply the funds to the cost of books, room and board, or other relevant expenses. You can set up a user-friendly web link for grandparents, other family members, and friends to contribute monetary gifts to the account for your child, and there may be additional tax deductions available, which vary from state to state. Another option would be to open an UTMA account for your child, which has increased spending flexibility beyond education, although much less in the way of tax benefits. This type of account allows you to manage assets on behalf of your children until they reach the age of majority, at which point they may use it for whatever they wish.
Preparing for a new child is an exciting time. Between all the doctor appointments and baby showers, reach out to your financial advisor to talk through the vital financial preparations needed for your growing family.
Any opinions expressed in this forum are not the opinion or view of American Portfolios Financial Services, Inc. (APFS) or American Portfolios Advisors, Inc.(APA) and have not been reviewed by the firm for completeness or accuracy. These opinions are subject to change at any time without notice. Any comments or postings are provided for informational purposes only and do not constitute an offer or a recommendation to buy or sell securities or other financial instruments. Readers should conduct their own review and exercise judgment prior to investing. Investments are not guaranteed, involve risk and may result in a loss of principal. Past performance does not guarantee future results. Investments are not suitable for all types of investors. To the extent that this material concerns tax matters, it is not intended or written to be used, and cannot be used, by a taxpayer for the purposes of avoiding penalties that may be imposed by law. Each tax payer should seek tax, legal or accounting advice from a tax professional based on his/her individual circumstances.
This material is for informational purposes only. Neither APFS nor its Representatives provide tax, legal or accounting advice. Please consult your own tax, legal or accounting professional before making any decisions. Information has been obtained from sources believed to be reliable and are subject to change without notification. The information presented is provided for informational purposes only and not to be construed as a recommendation or solicitation. Investors must make their own determination as to the appropriateness of an investment or strategy based on their specific investment objectives, financial status and risk tolerance. Past performance is not an indication of future results. Investments involve risk and the possible loss of principal.