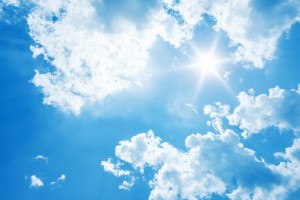 By Bob Kauffman, President
This morning, the Dow is up 200 points to over 21,000 — the highest level ever. CNN reports Nasdaq is also up 0.9%. Personally, I am a bit surprised by the response to last night's Joint Address. I don't think anything our president said was groundbreaking; investment people have heard all of this information before. However, an attitude change can have a huge impact.
Some people will look at this news negatively and say the market is now too high. It's too late to get in, and I missed it, they might say.
From my perspective, the valuation doesn't seem terribly high. Good stock markets don't end with a high degree of pessimism still out there. Good markets end with euphoria, and that's not what we see. My personal opinion is that the market is probably going even higher than today.
While this morning's outlook is very bright, we don't have the hard evidence of earnings, growth rates, or profitability to support these "good feelings." President Trump's policies will take a year or longer to change America's economic growth rates. What we're seeing today is based on an attitude change: more people are comfortable investing.
This is inevitable because there aren't any alternatives available currently. Interest rates are remaining low, so you need to find a way to get a reasonable return on your money. Equities can allow some calculated risk with a portion of your money; the markets are not too high for you to do that.
Many have felt there was a cloud over the economy in recent years. They felt we couldn't get the economy moving due to excessive regulation and a loose money policy. But this morning, while the sun's not yet out, the clouds are lifting. It feels like a better day is coming. This change in attitude is enough to allow stock prices to rise.
Ambassador Advisors is a Registered Investment Advisor. Securities offered through American Portfolios Financial Services, Inc. of Holbrook, NY, 631-439-4600 (APFS), member FINRA, SIPC. Investment Advisory Services offered through Ambassador Advisors, LLC. Ambassador Advisors is not owned or operated by APFS.
Any opinions expressed in this forum are not the opinion or view of Ambassador Advisors or American Portfolios Financial Services, Inc. (APFS). They have not been reviewed by either firm for completeness or accuracy. These opinions are subject to change at any time without notice. Any comments or postings are provided for informational purposes only and do not constitute an offer or a recommendation to buy or sell securities or other financial instruments. Readers should conduct their own review and exercise judgment prior to investing. Investments are not guaranteed, involve risk and may result in a loss of principal. Past performance does not guarantee future results. Investments are not suitable for all types of investors.
Check the background of this Investment Professional
https://brokercheck.finra.org/