Boiling the average American household's retirement savings down to just a few numbers — and giving it meaning — is a difficult thing to do. Some couples feel the need to save over $1 million to comfortably sleep at night, while others think that they'll survive, and thrive, just fine on Social Security alone.
This disparity in mind-sets is critically important,because two people can look at the numbers presented and come to completely different conclusions. Some will see an alarming situation that needs to be fixed immediately, whereas others won't understand what the big deal is. Although your conclusion likely reflects your own frame of reference, the answer is probably somewhere in the middle.
The view from 30,000 feet
Last June, the Government Accountability Office released a detailed report touching on the current financial status of households between the ages of 55 and 64. The main goal was to measure the retirement savings for this age group. Here's the distribution that researchers found: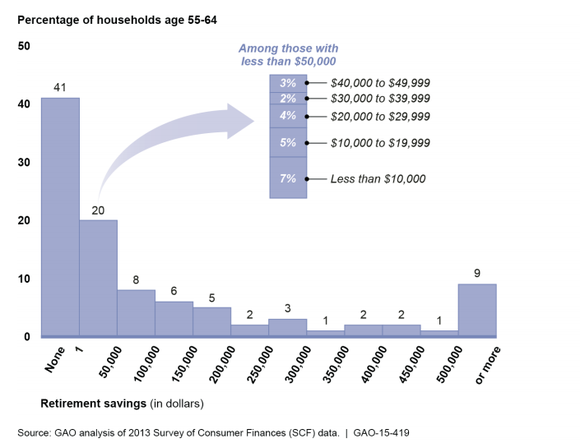 This means that the median household approaching retirement has a nest egg of between $10,000 and $20,000. This number is drawn down significantly because 41% of these households have no retirement savings whatsoever.
Stay tuned for Part 2 to read more of this article series!
Original article by Brian Stoffel via The Motley Fool February 26, 2016
Ambassador Advisors is a Registered Investment Advisor. Securities offered through American Portfolios Financial Services, Inc. of Holbrook, NY, 631-439-4600 (APFS), member FINRA, SIPC. Investment Advisory Services offered through Ambassador Advisors, LLC. Ambassador Advisors is not owned or operated by APFS.
Any opinions expressed in this forum are not the opinion or view of Ambassador Advisors or American Portfolios Financial Services, Inc. (APFS). They have not been reviewed by either firm for completeness or accuracy. These opinions are subject to change at any time without notice. Any comments or postings are provided for informational purposes only and do not constitute an offer or a recommendation to buy or sell securities or other financial instruments. Readers should conduct their own review and exercise judgment prior to investing. Investments are not guaranteed, involve risk and may result in a loss of principal. Past performance does not guarantee future results. Investments are not suitable for all types of investors.