The 61% who have saved
The financial situation of this group was a much wider range, with 7% having less than $10,000 and 9% having more than a half-million dollars. Of this group:
The median net worth per household is $337,000.
87% are homeowners, but only 27% own their home outright.
45% have a defined benefit plan.
For those who are competitive, the authors also took into account all of the households with some retirement savings, and broke them down into percentiles. As a refresher, being in the 10th percentile means you have a nest egg bigger than 10% of all those with some saved up; the 90th percentile means you have more than 90% of those with some savings.
Here's how the percentiles look: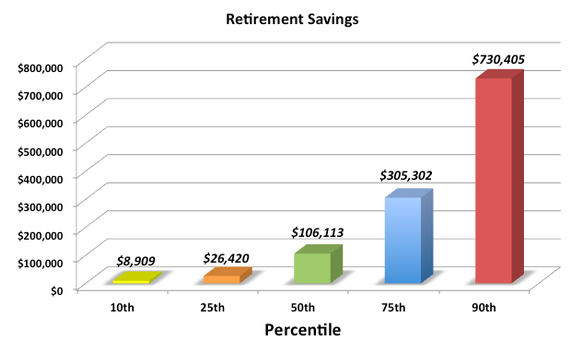 All of these figures represent the financial situation of millions of households — all with different values, native cultures, needs, and wants. The importance of one's nest egg, therefore, will hold a different level of importance as well.
In the end, there's no harm in sitting down with an advisor for a half-hour to plot out a rough idea for the type of retirement you'd like down the road.
Original article by Brian Stoffel via The Motley Fool February 26, 2016
Ambassador Advisors is a Registered Investment Advisor. Securities offered through American Portfolios Financial Services, Inc. of Holbrook, NY, 631-439-4600 (APFS), member FINRA, SIPC. Investment Advisory Services offered through Ambassador Advisors, LLC. Ambassador Advisors is not owned or operated by APFS.
Any opinions expressed in this forum are not the opinion or view of Ambassador Advisors or American Portfolios Financial Services, Inc. (APFS). They have not been reviewed by either firm for completeness or accuracy. These opinions are subject to change at any time without notice. Any comments or postings are provided for informational purposes only and do not constitute an offer or a recommendation to buy or sell securities or other financial instruments. Readers should conduct their own review and exercise judgment prior to investing. Investments are not guaranteed, involve risk and may result in a loss of principal. Past performance does not guarantee future results. Investments are not suitable for all types of investors.