How Proper Senior Care Planning Will Determine Your Financial Future
Part 1: Medicare 2019 – What you need to know before 2020
Americans are getting older. As we look towards our retirement, a higher percentage of Americans than ever before will be entering their golden years. We have all read the news and heard the dire expectations regarding the financial outlook of social security and the Medicare system. Many people feel a sense of helplessness, as they recognize their inability to have any influence over these predictions or coming realities.
The number of Medicare enrollees is set to double by the year 2040, capping out at close to 88 million, with an annual cost per enrollee of $21,000. Without Medicare Supplemental Insurance or Medigap, enrollees will owe at least 20 percent of their healthcare costs in either co-pays or large deductibles.
In this blog series, we will look at ways that you can position yourselves and your families to be prepared to handle these changes and to have some control over your financial future. We will look into Medicare, as it exists now and as it might exist in the future, and we'll examine various Medicare Supplemental Insurance (Medigap) options that can help you fill in the uncovered portions of your expenses that may result from changes in government-funded senior health care options.
Are you eligible for Medicare?
If you are 65 years of age or older and a U.S. citizen or a permanent legal resident, you're most likely eligible for federal health insurance (Medicare). If you're younger than 65, you may qualify for Medicare if one of the following applies to you:
You have been eligible to receive Social Security disability benefits for at least 24 months.
You have been diagnosed with Lou Gehrig's disease (ALS).
You receive a disability pension from the Railroad Retirement Board.
You are in treatment for End-Stage Renal Disease (ESRD) and receive maintenance dialysis or have had a kidney transplant.
If you are eligible to register for Medicare coverage before the end of this year, it is imperative that you look at the plans that will no longer be available to you if you miss the deadline. It is also essential for you to know that without Medicare Supplemental Insurance (Medigap), specifically Plan F, your medical costs could be significantly higher if you fail to act now.
In 2016, Congress mandated that Supplemental Insurance (Medigap) Plan F, which covers 100 percent of your out-of-pocket medical costs, will no longer be available for new applicants in 2020.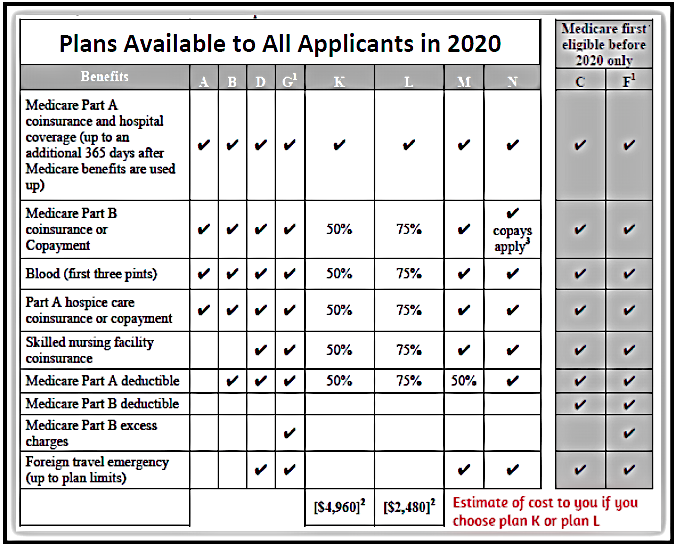 Some other things you need to know about Plan F, and why you should act now:
This change indicates a calculated move or trend towards placing more burden upon retirees than ever before. So, let us be clear and reiterate this critical point: Do not wait until it's too late for you to apply for Medicare, if you are eligible before 2020. Plan F relieves a significant burden, but it is disappearing and won't likely be available again.
Hopefully, this information has sparked an awakening and a knowledge that you do, as consumers, have some control over your destiny. A wise person once said, focus on where you can affect the most change in your life, and leave the rest to God. This is one of those times when your action or inaction matters to you and your family.
In the next blog within this series, we will deal with some details on signing up for Medicare and supplemental insurance plans that you may need. If you feel a renewed sense of urgency and are, or will become, eligible for Medicare before the end of 2019, please contact Ambassador Advisors. We will be happy to sit down and review your options, based upon such factors as your financial position, your overall health, and the needs of your family.
Don't let this opportunity pass you by.
Any opinions expressed in this forum are not the opinion or view of American Portfolios Financial Services, Inc. (APFS) or American Portfolios Advisors, Inc.(APA) and have not been reviewed by the firm for completeness or accuracy. These opinions are subject to change at any time without notice. Any comments or postings are provided for informational purposes only and do not constitute an offer or a recommendation to buy or sell securities or other financial instruments. Readers should conduct their own review and exercise judgment prior to investing. Investments are not guaranteed, involve risk and may result in a loss of principal. Past performance does not guarantee future results. Investments are not suitable for all types of investors. To the extent that this material concerns tax matters, it is not intended or written to be used, and cannot be used, by a taxpayer for the purposes of avoiding penalties that may be imposed by law. Each tax payer should seek tax, legal or accounting advice from a tax professional based on his/her individual circumstances.