How Proper Senior Care Planning Will Determine Your Financial Future
Part 2: Medicare and Medigap: How to apply and what you should know
If you're new to Medicare, you need to learn about your Medicare choices.
Within Medicare exists different parts. Part A, hospital insurance, will help you cover any inpatient care in a hospital facility. Part A also provides skilled nursing care, as well as home health services and hospice care for those who are facing end of life expenses.
Next is Part B, medical insurance. This coverage includes services from doctors or any other healthcare provider, such as outpatient care, or for the use or purchase of medical equipment, such as walkers, wheelchairs, and other quality of life devices. Preventative services are also covered under Part B and are often called "wellness visits." These two parts, A and B, constitute what is known as basic Medicare coverage.
This simple flowchart can help you navigate this complicated array of choices.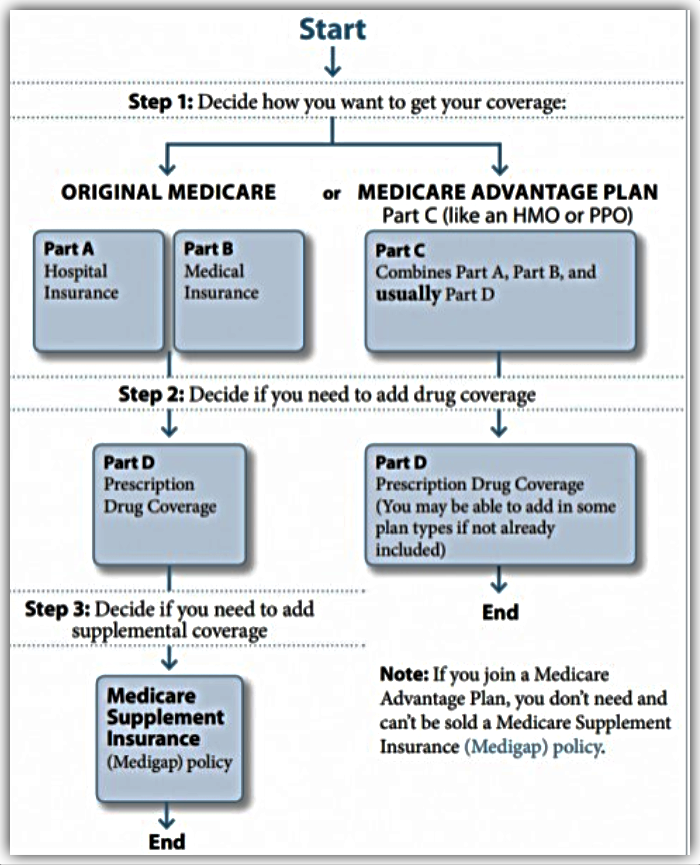 Prescription drug coverage, otherwise known as Part D, is a separate plan that provides coverage for the cost of prescription drugs, including preventative shots or vaccines, and are run by private insurance companies that follow the rules set by the Medicare system. With the pervasive use of prescription drugs as a significant portion of overall medical care treatment in the U.S., Part D coverage is imperative.
There is another option for those who wish to add prescription drug coverage to their original Medicare plan. Medicare Advantage, or Part C, is an all-in-one alternative to the basic Medicare plan that bundles Parts A, B, and D together, potentially lowering any out-of-pocket costs of separate original Medicare coverage.
Don't look for these lower costs to continue much longer, as those reviewing and recommending changes to Medicare are trying to eliminate as much government expense and responsibility as possible. Medicare Advantage Plans do offer some extra benefits that original Medicare does not, including dental, vision, and hearing coverage.
Medigap Coverage: What is it, and what are the costs?
When you get sick or injured, deductibles and co-pays on standard Medicare are harsh. The solution is often Medicare Supplement plans, designed by the government and sold by private companies. These are other plans to pay health care costs not covered by Medicare. You pay a monthly premium to the insurance company in addition to Medicare Part B premium. The price depends on the type of plan you buy, the insurance company, your location, and your age. Medigap policies do not cover long-term care, dental care, vision care, hearing aids, eyeglasses, and private duty nursing. Most plans do not cover prescription drugs.
How Do I Enroll in a Medigap Plan, and When?
When you are eligible to sign up for Medicare, you can choose how you get your coverage. You have three main paths you can travel when choosing which Medicare insurance plan is right for you. Your options include Medicare (Part A and Part B) or a Medicare Advantage Plan (Part C). Due to pre-existing conditions or for other reasons, many people decide to get additional coverage, like prescription drug coverage or other Medicare Supplement Insurance (Medigap). Enrollment is six months from the first day of the month of your 65th birthday or within six months of signing up for Medicare Part B. Medigap policies are only available to people who already have Medicare Part A (hospital services) and Medicare Part B (doctor services).
How Can Ambassador Advisors Help?
Ambassador Advisors recommends that you select a plan based on your budget and health needs, as well as state-specific laws. The laws in Pennsylvania, for instance, are clear and are designed to protect the consumer. One of the least known of these protections is the Guaranteed Issue Rights afforded to Medigap customers. There are specific periods when you have the right to purchase a Medigap policy. During these times, Medigap insurance companies must sell or offer you a Medigap policy without placing conditions on the policy (such as not covering pre-existing conditions) or charging you a higher premium because of a past or present health problem.
There are many turns in the road leading to a comprehensive plan for your retirement, and choosing the right plan is an essential step towards a happy and healthy future. Ambassador Advisors wants to help guide you, as we walk together towards a healthy and fulfilling retirement.
Any opinions expressed in this forum are not the opinion or view of American Portfolios Financial Services, Inc. (APFS) or American Portfolios Advisors, Inc.(APA) and have not been reviewed by the firm for completeness or accuracy. These opinions are subject to change at any time without notice. Any comments or postings are provided for informational purposes only and do not constitute an offer or a recommendation to buy or sell securities or other financial instruments. Readers should conduct their own review and exercise judgment prior to investing. Investments are not guaranteed, involve risk and may result in a loss of principal. Past performance does not guarantee future results. Investments are not suitable for all types of investors. To the extent that this material concerns tax matters, it is not intended or written to be used, and cannot be used, by a taxpayer for the purposes of avoiding penalties that may be imposed by law. Each tax payer should seek tax, legal or accounting advice from a tax professional based on his/her individual circumstances.