Myth: Social Security will provide most of the income you need in retirement.
Fact: It's likely that Social Security will provide a smaller portion of retirement income than you think.
There's no doubt about it: Social Security is an important source of retirement income for most Americans. According to the Social Security Administration, more than nine out of ten individuals age 65 and older receive Social Security benefits.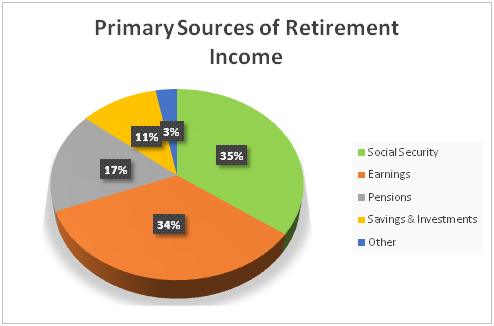 Today, it may be unwise to rely too heavily on Social Security, because to keep the system solvent, changes will likely have to be made to it. The younger and wealthier you are, the more likely these changes will affect you. Whether retirement is years away or just around the corner, keep in mind that Social Security was never meant to be the sole source of income for retirees. As President Dwight D. Eisenhower once said, "The system is not intended as a substitute for private savings, pension plans, and insurance protection. It is, rather, intended as the foundation upon which these other forms of protection can be soundly built."
No matter what the future holds for Social Security, focus on saving as much for retirement as possible. You can do so by contributing to tax-deferred vehicles such as IRAs, 401(k)s, and other employee-sponsored plans, as well as by investing in stocks, bonds, and mutual funds. When combined with your future Social Security benefits, your retirement savings and pension benefits can help ensure that you'll have enough income to see you through retirement.
*Original article from Broadridge/Forefield Newsletter
Ambassador Advisors is a Registered Investment Advisor. Securities offered through American Portfolios Financial Services, Inc. of Holbrook, NY, 631-439-4600 (APFS), member FINRA, SIPC. Investment Advisory Services offered through Ambassador Advisors, LLC. Ambassador Advisors is not owned or operated by APFS.
Any opinions expressed in this forum are not the opinion or view of Ambassador Advisors or American Portfolios Financial Services, Inc. (APFS). They have not been reviewed by either firm for completeness or accuracy. These opinions are subject to change at any time without notice. Any comments or postings are provided for informational purposes only and do not constitute an offer or a recommendation to buy or sell securities or other financial instruments. Readers should conduct their own review and exercise judgment prior to investing. Investments are not guaranteed, involve risk and may result in a loss of principal. Past performance does not guarantee future results. Investments are not suitable for all types of investors.