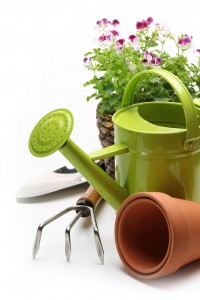 By Karen A. Minnich, Financial Advisor
Like many things in life, gardening takes time, careful planning, knowledge and patience. When gardening, you would never haphazardly throw seeds around your yard or plant young shrubbery "willynilly" throughout your mulch beds. First, you should come up with an idea. Next, you might consult a professional to better understand which plants will work best with your soil conditions and sun exposure. Then, you'd be prepared to choose an array of different plants that create a variety of colors, heights and textures and, together, make up the perfect aesthetic for your home.
We can follow this same process regarding retirement planning. First, we need to decide our goals and plans for the future. Next, we should consult a professional who will devise the best plan, given our conditions and situation. Whether it be the proper type of retirement plan for our business, or qualifying additions to our personal 401(k), the advisor's expertise should help us make sure our money is placed in vehicles that make sense for the current economic conditions. The plan should also provide enough flexibility to respond to changes in personal circumstances or market conditions.
When tending to our garden, it is easy to be impatient, wanting to see growth happen very quickly. Our first instinct may be to monitor it constantly, "tinkering" with it in hopes of accelerated growth. Too much water or "over feeding" usually leads, though, to stunted growth and, even plant death.
The same holds true with our retirement planning. Often, we watch very closely and, at the first sign of trouble, we want to take action. The thought of losing any of our hard-earned money is a difficult one to fathom. So, we may think it best to change the plan and change our investments. Unfortunately, most times, this leads to investments being bought or sold at the wrong time.
In planning and investing, as with gardening, we need to be patient. We are sowing, watering and pruning our plan to create lasting beauty and benefit. Whether watching our gardens grow from small seedlings to large beautiful trees and shrubbery, or watching our investments grow from a few hundred dollars to a few hundred thousand dollars, we need to stick to the plan, review periodically and alter only as needed.
Ambassador Advisors is a Registered Investment Advisor. Securities offered through American Portfolios Financial Services, Inc. of Holbrook, NY, 631-439-4600 (APFS), member FINRA, SIPC. Investment Advisory Services offered through Ambassador Advisors, LLC. Ambassador Advisors is not owned or operated by APFS.
Any opinions expressed in this forum are not the opinion or view of Ambassador Advisors or American Portfolios Financial Services, Inc. (APFS). They have not been reviewed by either firm for completeness or accuracy. These opinions are subject to change at any time without notice. Any comments or postings are provided for informational purposes only and do not constitute an offer or a recommendation to buy or sell securities or other financial instruments. Readers should conduct their own review and exercise judgment prior to investing. Investments are not guaranteed, involve risk and may result in a loss of principal. Past performance does not guarantee future results. Investments are not suitable for all types of investors.