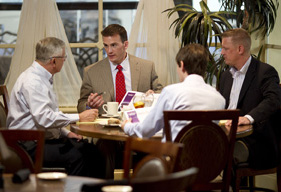 Retirement Saving/Investments
Until now, you may have been saving through retirement accounts such as IRAs, 401(k)s, or other tax-advantaged plans, as well as in taxable accounts. Your challenge now is to convert your savings into ongoing income. There are many ways to do that, including periodic withdrawals, choosing an annuity if available, increasing your allocation to income-generating investments, or using some combination. Make sure you understand the tax consequences before you act.
Some factors you'll need to consider when planning how to tap your retirement savings include:
– How much you can afford to withdraw each year without exhausting your nest egg. You'll need to take into account not only your projected expenses and other income sources, but also your asset allocation, your life expectancy, and whether you expect to use both principal and income, or just income alone.
– The order in which you will tap various accounts. Work with your financial advisor to find out, before retirement, which accounts work best for your unique financial situation and which you should start withdrawing money from first when retired.
– How you'll deal with required minimum distributions (RMDs) from certain tax-advantaged accounts. After age 70 1/2, if you withdraw less than your RMD, you'll pay a penalty tax equal to 50% of the amount you fail to withdraw.
Some investments, such as certain types of annuities, are designed to provide a guaranteed monthly income (subject to the claims-paying ability of the issuer). Others may pay an amount that varies periodically, depending on how your investments perform. You also can choose to balance your investment choices to provide some of both types of income.
Equity in Your Home or Business
If you have built up substantial home equity, you may be able to tap it as a source of retirement income. Selling your home, then downsizing or buying in a lower-cost region, and investing that freed-up cash to produce income or to be used as needed, is one possibility. Another is a reverse mortgage, which allows you to continue to live in your home while borrowing against its value. That loan and any accumulated interest is eventually repaid by the last surviving borrower when he or she eventually sells the home, permanently vacates the property, or dies. However, you need to carefully consider the risks and costs before borrowing.
If you're hoping to convert an existing business into retirement income, you may benefit from working with an advisor to carefully plan on how to minimize the tax impact of a sale. Also, if you have partners, you'll likely need to make sure you have a buy-sell agreement that specifies what will happen to the business when you retire and how you'll be compensated for your interest.
Our team of professional advisors at Ambassador Advisors can help you determine the best and most tax-efficient way to transition from business owner to retirement.
Ambassador Advisors is a Registered Investment Advisor. Securities offered through American Portfolios Financial Services, Inc. of Holbrook, NY, 631-439-4600 (APFS), member FINRA, SIPC. Investment Advisory Services offered through Ambassador Advisors, LLC. Ambassador Advisors is not owned or operated by APFS.
Any opinions expressed in this forum are not the opinion or view of Ambassador Advisors or American Portfolios Financial Services, Inc. (APFS). They have not been reviewed by either firm for completeness or accuracy. These opinions are subject to change at any time without notice. Any comments or postings are provided for informational purposes only and do not constitute an offer or a recommendation to buy or sell securities or other financial instruments. Readers should conduct their own review and exercise judgment prior to investing. Investments are not guaranteed, involve risk and may result in a loss of principal. Past performance does not guarantee future results. Investments are not suitable for all types of investors.