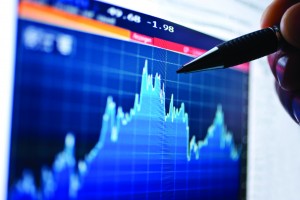 With all of the information at investors' fingertips, how is anyone supposed to make sense of it all?
A quick Google search for "trading tools" brings a plethora of results, all undoubtedly touting the fastest, easiest way to make "foolproof " profits, or the best algorithmic-quantitative-charting tool ever devised. "What does any of that even mean?", you may ask yourself. Most results are from trading platforms that charge their clients a commission per trade and whose tools entice the clients to trade frequently.
Since we don't subscribe to the theory of timing or "day trading" the market, the primary tool we use for our portfolios is research. There is certainly no shortage of information available regarding the "macro" economy, as well as the individual investments that move today's markets.
Quarterly and annual reports that used to be mailed only to shareholders can now be accessed in seconds via the Internet, not to mention the company's conference calls explaining its results. Economic data is reported down to the millisecond via CNBC, Yahoo Finance and Bloomberg. Research reports from industry professionals that, only a few years back, cost thousands of dollars to obtain, are now virtually free. So, with all of the information at investors' fingertips, how is anyone supposed to make sense of it all?
Ambassador Advisors takes a team approach to tackling all of the data. No one person is solely responsible for our investment outlook. Every day, our Wealth Management Team discusses the seemingly overwhelming number of informational tools available. Then we shape our overall market outlook and portfolio construction, based upon our core philosophy of remaining broadly diversified. We use the tools of academic research to construct our portfolio philosophy, as well as our own fundamental research and our distillation of the news available to the public. These drive our specific investments and allocations, equipping us to provide our clients with portfolios that meet their planning needs.
Ambassador Advisors is a Registered Investment Advisor. Securities offered through American Portfolios Financial Services, Inc. of Holbrook, NY, 631-439-4600 (APFS), member FINRA, SIPC. Investment Advisory Services offered through Ambassador Advisors, LLC. Ambassador Advisors is not owned or operated by APFS.
Any opinions expressed in this forum are not the opinion or view of Ambassador Advisors or American Portfolios Financial Services, Inc. (APFS). They have not been reviewed by either firm for completeness or accuracy. These opinions are subject to change at any time without notice. Any comments or postings are provided for informational purposes only and do not constitute an offer or a recommendation to buy or sell securities or other financial instruments. Readers should conduct their own review and exercise judgment prior to investing. Investments are not guaranteed, involve risk and may result in a loss of principal. Past performance does not guarantee future results. Investments are not suitable for all types of investors.