Lifted by a strong Unemployment report and supported by low interest rates, the major US stock indexes all reached all-time highs this week. Stocks are a forward looking marketplace and it seems that many investors see brighter days ahead for the American economy in the latest report.
Our Take
The Unemployment report is really not favorable at all. Last week, the Labor Participation Rate fell again to a new low. This report gives the percentage of working age Americans that are actually employed. As you can see, it is the lowest that it has been since the terrible recession of the early eighties brought on by record interest rates that eclipsed 20%.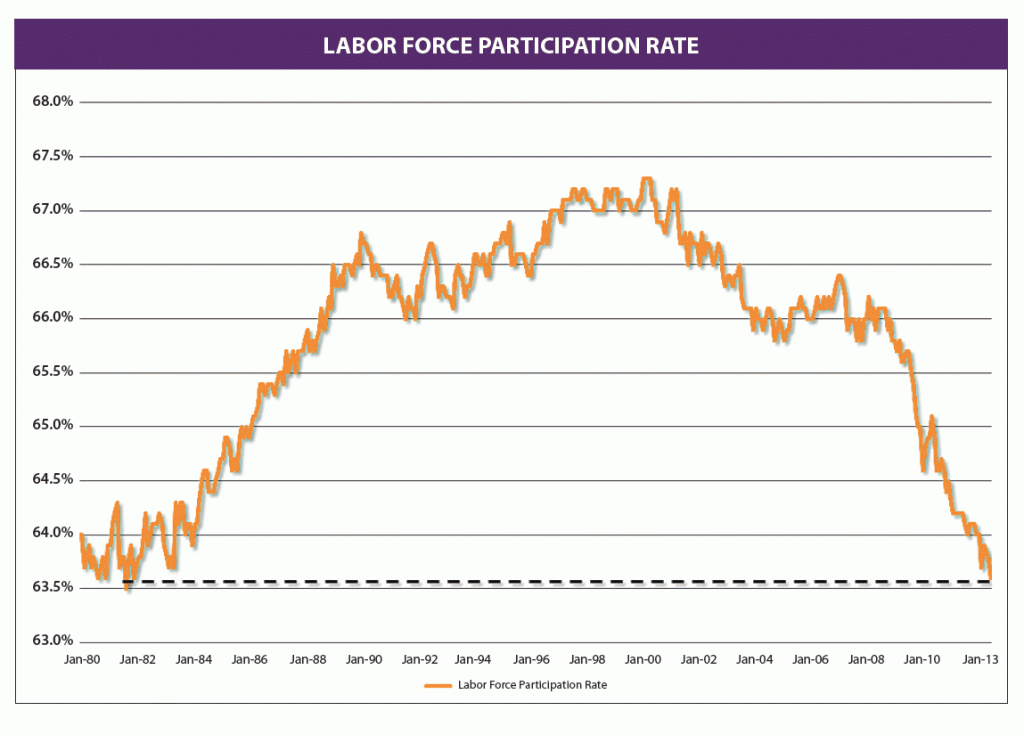 With outsourcing, Free trade agreements that seek cheap labor, and the early stage development of robots with artificial intelligence, we believe that a day will come when working Americans may approach 30% from today's 63.5%. The implications for our society being so idle are enormous! Future generations must be educated and ascend into occupations where people are needed.
The Unemployment statistics will not go straight down, but will likely have some ebb and flow to them. Basing investment decisions and economic activity projections on temporal statistics is foolish. The trend is down on Employment and we do not see any consistent reversal coming.
What To Do
You should stay focused on the metrics that matter. Corporations are increasing margins, managing inventory levels, and reducing transportation costs. Innovation is flourishing. Computer technology is finally producing the efficiencies that produce better goods at lower costs with higher and more predictable profits. Low interest rates lift the value of investment assets by reducing competing alternatives. The financial health of Corporations is generally strong and profit levels are high. That's the good reason to be invested not the Unemployment Report.
Ambassador Advisors is a Registered Investment Advisor. Securities offered through American Portfolios Financial Services, Inc. of Holbrook, NY, 631-439-4600 (APFS), member FINRA, SIPC. Investment Advisory Services offered through Ambassador Advisors, LLC. Ambassador Advisors is not owned or operated by APFS.
Any opinions expressed in this forum are not the opinion or view of Ambassador Advisors or American Portfolios Financial Services, Inc. (APFS). They have not been reviewed by either firm for completeness or accuracy. These opinions are subject to change at any time without notice. Any comments or postings are provided for informational purposes only and do not constitute an offer or a recommendation to buy or sell securities or other financial instruments. Readers should conduct their own review and exercise judgment prior to investing. Investments are not guaranteed, involve risk and may result in a loss of principal. Past performance does not guarantee future results. Investments are not suitable for all types of investors.