So, are you stir crazy, yet? Miss the "good old days," when we could go watch a sporting event or at least watch one on TV? Remember when you could go to a restaurant and actually sit down? Those days are seeming longer and longer ago, every day that we spend in "lock-down."
The waiting, however, goes well beyond the fun things we miss. Some of us are waiting for a loved one to feel better and recover from illness. Some are waiting to go back to work or for churches, schools, and businesses to reopen. And many of us are waiting for the markets to bottom and for the recovery process to begin.
As you know, waiting is often part of God's plan.
Noah built an Ark and waited for the rain
Abraham waited for a son
Jacob waited for Rachel
Jesus waited to start His ministry
Over the past several weeks, the markets have dropped significantly. We have been waiting patiently for a market bottom. Typically, within every bear market, there are at least one or two retests before a bottom is in: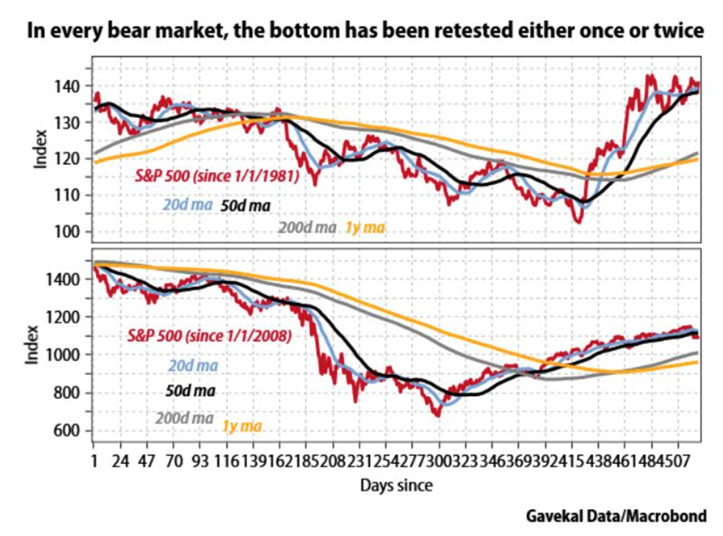 This is a healthy part of the bottoming process, where the markets form a solid foundation before heading higher. Right now, we are still in the midst of a crisis with great uncertainty surrounding when COVID-19 cases will peak, when businesses will reopen, and how much economic damage will be done.
Over the past week, the markets started falling again, making a "W" recovery very, very likely:
The S&P 500 dropped -2.1%
The Dow fell -4.7%
Nasdaq lost -1.7%
The headline this past week came from the surge in jobless claims, as 6.65 million Americans applied for unemployment. Combined with the prior week's 3.3 million claims, now over 10 million Americans are without jobs. With "shelter-in-place" orders now in place through the end of April for almost every state in the Union, we expect these numbers could get much worse. Current estimates put near-term unemployment rates close 10%, while some economists have estimated that a 20% unemployment rate is not out of the question.
However, there is some good news. When we see "event-driven" bear markets, like this, the "waiting period" for recovery is typically only 15 months on average:

Structural bear markets like the 2008-2009 downturn, which came from a financial collapse due to too much debt and bad credit, tend to take 111 months to recover. Cyclical bear markets, which are more of a result of a slowing business cycle, typically take 50 months on average for recovery. Yet, event-driven bear markets, like those created by a sudden pandemic, usually only take 15 months for a full recovery.
This doesn't mean the current bear market will be over within 15 months. It could be longer, but, if history is on our side, this will be over before we know it. There is some good news on the horizon:
Trading volumes are starting to "dry up," meaning many of the sellers have been exhausted.
The S&P 500 and Dow continue to yield more than Treasuries, which should attract investors back into stocks when the coast appears clear.
Once businesses reopen and economic activity resumes, there will be far less uncertainty.
Remember, now is not the time to be blindly selling due to fear-inducing headlines. It is, however, a good time to be tip-toeing back into the markets if you have cash on the sidelines. We particularly favor dividend stocks and those with strong cash flows and solid balance sheets. If you don't have cash to deploy, then it is time to continue waiting.
"I wait quietly before God, for my victory comes from him." Psalm 62:1 (NLT)
Patience and prudence will pay off.
Any opinions expressed in this forum are not the opinion or view of American Portfolios Financial Services, Inc. (APFS) or American Portfolios Advisors, Inc.(APA) and have not been reviewed by the firm for completeness or accuracy. These opinions are subject to change at any time without notice. Any comments or postings are provided for informational purposes only and do not constitute an offer or a recommendation to buy or sell securities or other financial instruments. Readers should conduct their own review and exercise judgment prior to investing. Investments are not guaranteed, involve risk and may result in a loss of principal. Past performance does not guarantee future results. Investments are not suitable for all types of investors. To the extent that this material concerns tax matters, it is not intended or written to be used, and cannot be used, by a taxpayer for the purposes of avoiding penalties that may be imposed by law. Each tax payer should seek tax, legal or accounting advice from a tax professional based on his/her individual circumstances.
This material is for informational purposes only. Neither APFS nor its Representatives provide tax, legal or accounting advice. Please consult your own tax, legal or accounting professional before making any decisions. Information has been obtained from sources believed to be reliable and are subject to change without notification. The information presented is provided for informational purposes only and not to be construed as a recommendation or solicitation. Investors must make their own determination as to the appropriateness of an investment or strategy based on their specific investment objectives, financial status and risk tolerance. Past performance is not an indication of future results. Investments involve risk and the possible loss of principal.