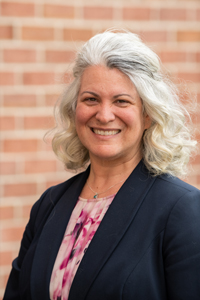 Director of Team Development
Amy joined the Ambassador Advisors team in July 2006. As the Director of Team Development, she provides oversight for hiring, training and the ongoing development of Ambassador Advisors team members. The efforts of the Team Development department promote a "culture of continuous learning" at Ambassador. This culture contributes most specifically to the firm's core values of Following God, Demonstrating Expertise, Fostering Teamwork, and Enriching Relationships.
Family & Hobbies
Amy lives in Mount Joy with her husband, Patrick. Their hearts are blessed to claim two adults as their children – Katie and Jebastin. She enjoys walking, usually with their Labradoodle, Moose. She also loves listening to worship music, nature photography, spending time with family and friends, writing, and reading. She recently co-authored a book with Jebastin, He Never Stops Working. This book is a story of God's faithfulness, and a shared testimony of how they met in person after a child-sponsorship connection of nearly 20 years.
Education & Experience
Pennsylvania State University; B.S. in Accounting
Youth With a Mission; Discipleship Training School and Teaching English to Speakers of Other Languages (TESOL) School
Certified John Maxwell Team Coach, Trainer and Speaker
Certified DISC Personality System Trainer
Graduate of Leadership Lancaster's Core Class of 2019
SHRM-SCP (Society for Human Resource Management – Senior Certified Professional)
Community Involvement
Member of the Society for Human Resource Management (SHRM), nationally and locally.
Member of the Board of Directors for Mount Joy Gift & Thrift, whose purpose is to support worldwide relief efforts of Mennonite Central Committee.
Member & Lay Minister of Outreach at Mount Joy Mennonite Church
Amy serves her colleagues, church family, and other nonprofit organizations locally. She is also an international traveler and has visited and served in numerous countries in the Caribbean, Asia, and Central America.
Why I like working at Ambassador Advisors …
The team at Ambassador is near and dear to my heart. I love being part of the growth and development of each team member, which in turn contributes to elevated client service and to the overall growth of our firm.
Favorite Bible Verse & Quote
Jesus said, "How can I describe the Kingdom of God? What story should I use to illustrate it? It is like a mustard seed planted in the ground. It is the smallest of all seeds, but it becomes the largest of all garden plants; it grows long branches, and birds can make nests in its shade." (Mark 4:30-32)
"I have a mustard seed and I'm not afraid to use it."
Email amalay@ambassadoradvisors.com.
Learn with your friends!
Group educational opportunities for your church, nonprofit organization, neighborhood, or small group Bible study.
Ambassador Advisors offers educational opportunities on many topics, for any group. Want to learn about how the COVID-19 pandemic is affecting the financial markets and your retirement savings? Need help planning for retirement and college savings? Looking for the best ways to financially support charities and your church, while also leaving a legacy for family? We can help!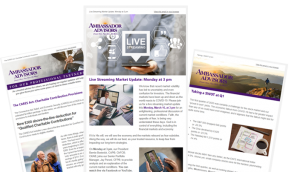 Sign Up to Receive Our Informational Emails