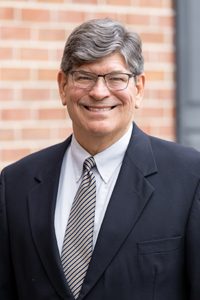 Financial Advisor
Andy graduated from Bucknell University with a BS in Business Administration.  While at Bucknell, he played football and rugby. Andy has been a CPA since 1999, and served with two prior investment service companies before coming to Ambassador Advisors.
Andy enjoys personal life coaching and watching baseball, football, basketball and track. He and his wife Marilyn have two grown sons: Andrew, married to Kirsten, and Danny. Athletically inclined like their father (who was inducted into his high school's football hall of fame), Andrew was a 6-foot high jumper in track and field, and Dan was a thousand-yard rusher in football in high school.
In 2017, Andy celebrated 40 years of knowing Jesus as his Lord. As one song says, "There is no greater thing!"  Professionally, Andy is honored to help make people aware of the legacy they can leave for the Lord's work financially.
Email akoch@ambassadoradvisors.com.
Check the background of this Investment Professional
http://brokercheck.finra.org/
Learn with your friends!
Group educational opportunities for your church, nonprofit organization, neighborhood, or small group Bible study.
Ambassador Advisors offers educational opportunities on many topics, for any group. Want to learn about how the COVID-19 pandemic is affecting the financial markets and your retirement savings? Need help planning for retirement and college savings? Looking for the best ways to financially support charities and your church, while also leaving a legacy for family? We can help!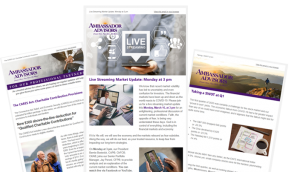 Sign Up to Receive Our Informational Emails