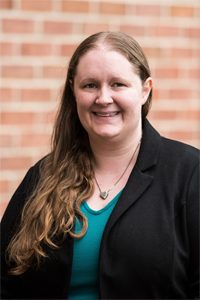 Operations Associate
Becky joined Ambassador Advisors in October 2018.  She has her B.A. in Professional Writing, with Minors in Religious Studies and Art History, from Elizabethtown College.  She also has her M.A. in Theology, with a Certification for Religion and the Arts, from Wesley Theological Seminary located in Washington, D.C.  She believes there is a strong connection between art, faith, and healing.  Becky most recently worked for a Christian long-term care community and has a deep appreciation for the older generation.  Becky has a love for detail, whether it is paperwork or proofreading, and she enjoys helping people in any way she can.
Becky lives in Millersville with her husband.  In her free time, Becky enjoys writing in her daily gratitude journal, praying for and encouraging loved ones, painting, and making jewelry.  She is excited and blessed to be working for Ambassador, a company with strong Christian values and a love for the Lord.
Favorite Bible Verse
"I hereby command you: Be strong and courageous; do not be frightened or dismayed, for the Lord your God is with you wherever you go." (Joshua 1:9)
Email BLong@ambassadoradvisors.com.
Learn with your friends!
Group educational opportunities for your church, nonprofit organization, neighborhood, or small group Bible study.
Ambassador Advisors offers educational opportunities on many topics, for any group. Want to learn about how the COVID-19 pandemic is affecting the financial markets and your retirement savings? Need help planning for retirement and college savings? Looking for the best ways to financially support charities and your church, while also leaving a legacy for family? We can help!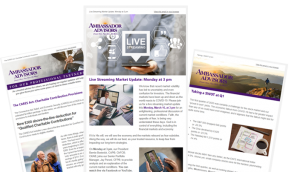 Sign Up to Receive Our Informational Emails