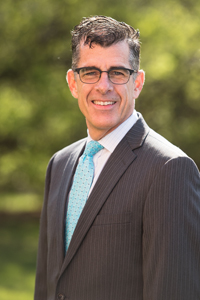 President
Bernie has spent over three decades as a manager in business and industry, after spending time serving his country in the U.S. Air Force. His career focus for the past twenty years has been financial planning. He received a Certificate in Retirement Planning from The Wharton School of the University of Pennsylvania and earned his Chartered Financial Consultant® (ChFC®) designation. He is a member of the International Association of Advisors in Philanthropy (AIP), the Partnership for Philanthropic Planning, and the Christian Leadership Alliance (CLA). Bernie is a member of Kingdom Advisors, earning a Certified Kingdom Advisors (CKA) designation.
As a CAP® (Chartered Advisor in Philanthropy®), Bernie began serving nonprofits by consulting with their donors regarding how to use their resources wisely, in a way that benefits both their families and the charities they love. By focusing on the desires of a donor's heart, Bernie and the team work to craft tax-favored strategies that protect and transfer wealth. It is his desire for building lasting relationships with his clients that has earned Bernie a reputation as a sustainability resource to help nonprofits achieve their mission and lay a firm foundation for years to come.
As president, Bernie leads a team of advisors who are advancing the kingdom through a transformational nonprofit process that focuses on teaching stewardship and changing lives for Christ.
Family & Hobbies
Bernie resides in Lancaster with his wife Beth. Bernie has two daughters and five granddaughters. Bernie enjoys music, spending time playing the guitar and leading worship in a small group setting.
Why I like working at Ambassador Advisors …
Bernie shares that he considers being a financial advisor as a personal ministry. He shares, "I enjoy being involved in people's lives, and being used by God to help others glorify Him through their blessings. It isn't about the size of a person's portfolio or a person's wealth. I want to help others achieve their goals to glorify the Lord. When I experience this firsthand and I see what the Lord does through faithful stewards… there is no better feeling in the world."
Email  bbostwick@ambassadoradvisors.com

Check the background of this Investment Professional
https://brokercheck.finra.org/
Learn with your friends!
Group educational opportunities for your church, nonprofit organization, neighborhood, or small group Bible study.
Ambassador Advisors offers educational opportunities on many topics, for any group. Want to learn about how the COVID-19 pandemic is affecting the financial markets and your retirement savings? Need help planning for retirement and college savings? Looking for the best ways to financially support charities and your church, while also leaving a legacy for family? We can help!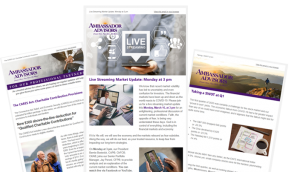 Sign Up to Receive Our Informational Emails