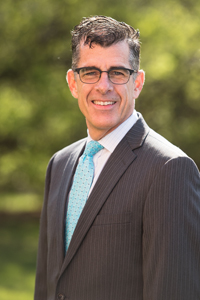 President
Bernie has spent nearly two decades as a manager in business and industry, with a particular focus on financial planning for the last ten. He has received a Certificate in Retirement Planning from The Wharton School of the University of Pennsylvania, and has earned his Chartered Financial Consultant® (ChFC®) designation. He is a member of the International Association of Advisors in Philanthropy (AIP), the Partnership for Philanthropic Planning, and the Christian Leadership Alliance (CLA).
Bernie grew up watching his favorite movie, "Field of Dreams," and wanting to be a businessman. He knew even then that he wanted to make a difference in the world, travel to different places, and be involved in something meaningful. Leaving his well-established career to start a new career in the financial wealth industry was the most daring thing he has ever done. He shares, "I felt the calling being put on my heart by God, but at the same time a fearful anticipation of leaving that career and its comforts behind to venture into this new field. I truly learned to trust God's provision for me and my family through this time."
Bernie enjoys traveling, and his fondest memory is of his honeymoon in the Dominican Republic. He shares, "I was celebrating the beginning of a new life with my new bride. I still get excited when I think back to the warmth of the beauty of the island and the undisturbed relaxation we experienced." If, while traveling, Bernie ever happened to find himself stranded on a desert island for a year, the three things he would want to have along would be the Bible, old writings of Charles Spurgeon, and pictures of his family.
As a CAP® (Chartered Advisor in Philanthropy®), Bernie began serving nonprofits by consulting with individuals regarding how to use their resources wisely, in a way that benefits both their families as well as the charities they love. One way he does this is by focusing on the desires of their heart and creating tax-favored strategies that protect and transfer their wealth. It is his desire for building lasting relationships with his clients that has earned Bernie a reputation for being a valuable resource in helping nonprofits achieve their mission and lay a firm foundation for years to come.
Family & Hobbies
Bernie resides in Lancaster with his wife Beth. Bernie has two daughters and four granddaughters.
Why I like working at Ambassador Advisors …
Bernie shares that he considers being a financial advisor as a personal ministry. He shares, "I enjoy being involved in people's lives, and being used by God to help others glorify Him through what they have been blessed with. It isn't about the size of a person's portfolio or a person's wealth, but helping them achieve their goals. When I experience this firsthand and I see what can be accomplished, there is no better feeling in the world to me."
Email  bbostwick@ambassadoradvisors.com

Check the background of this Investment Professional
http://brokercheck.finra.org/
Learn with your friends!
Group educational opportunities for your church, nonprofit organization, neighborhood, or small group Bible study.
Ambassador Advisors offers educational opportunities on many topics, for any group. Want to learn about how the COVID-19 pandemic is affecting the financial markets and your retirement savings? Need help planning for retirement and college savings? Looking for the best ways to financially support charities and your church, while also leaving a legacy for family? We can help!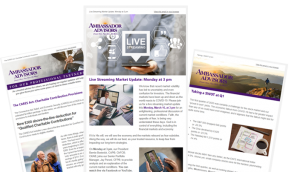 Sign Up to Receive Our Informational Emails