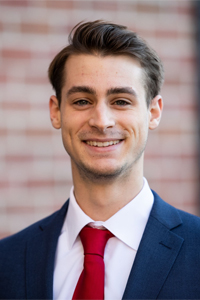 Client Service Associate
Bryce joined the Ambassador Advisors team in October 2021. As a Client Service Associate, he supports his team by preparing document applications, opening client accounts, preparing insurance documents & quotes, and guiding/aiding clients through issues that may arise with their accounts.
Family & Hobbies
Bryce is originally from Lock Haven, PA, and lives in Ephrata, PA. He enjoys playing guitar and recording music from his home studio for Spotify, Apple and YouTube. He stays fit at his local gym and skis. Bryce is an avid music and podcast listener. His favorite artists and shows include Dayglow, Kings of Leon, The Joe Rogan Experience, Bethel Music, and Tame Impala.
Education & Experience
Bryce studied at Bloomsburg University of Pennsylvania, obtaining a BSBA in Finance with a double minor in Economics and Financial Planning. He completed Bloomberg Market Concepts (BMC) certification in 2018, competed on Bloomsburg University's CFA challenge team in 2020, and was selected as an Executive Board member on Bloomsburg University's Investment Group 2021.
Favorite Bible Verse
"But store up for yourselves treasures in heaven, where moths and vermin do not destroy, and where thieves do not break in and steal. For where your treasure is, there your heart will be also." (Matthew 6:20-21)