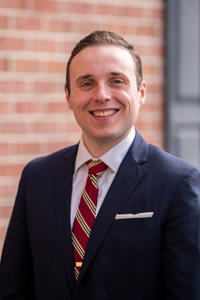 Client Service Associate
Caleb came to Ambassador Advisors near the beginning of 2022 to begin a career in the financial services industry, studying and training towards becoming an advisor. The ability to master a craft and use it to bless others in significant ways over a long time is deeply promising.
Family & Hobbies
Caleb's greatest joy after Jesus is his family. He and his wife Phyllis Jean have three children under four years old: Judah, Piper, and Zwemer. Date nights with his bride and college-sweetheart are his favorite activity, but his most regular hobbies include changing children, cleaning up toys and thrown bits of food, and lengthy bedtime routines. Whenever time permits, he enjoys getting outdoors on a golf course, in a kayak, and while running to stay in shape. Educational hikes with his children are particularly wonderful as well as we can learn so much about God through His creation.
Education & Experience
Lancaster Bible College – B.A. in Pre-Seminary (Pastoral Ministry + two years of Biblical Greek)
Financial Regulatory Authority – Securities Industry Essentials License
Eight Years of Nonprofit and Business Management
Currently Studying at the College for Financial Planning to receive a M.S. in Financial Planning
Community Involvement
Caleb and his wife Phyllis Jean are active and serving members of Calvary Bible Church in Mount Joy, serving on the Global Outreach Committee together. Caleb serves as the Chairman of the Safety and Security Committee and occasionally teaches youth. Additionally, Caleb is beginning to take interest in running 5k races through value-aligned nonprofits to raise funds for their ministry goals.
Why I like working at Ambassador Advisors …
Caleb is grateful for the opportunity to learn more about the financial services industry from a Biblical Worldview and to grow in his capacity to help others with crucial financial matters that have generational impact. As a Client Service Associate, he is honored to partner with an incredible team of people to execute financial plans and provide clients with the same kind of elevated experiences he would expect to receive as a client. He feels beyond blessed to strive with a company that shares his values.
Favorite Verse & Quote
"Anything worth doing is worth doing poorly." G.K. Chesterton
 "Unless the Lord builds the house, those who build it labor in vain. Unless the Lord watches over the city, the watchman stays awake in vain. It is in vain that you rise up early and go late to rest, eating the bread of anxious toil; for he gives to his beloved sleep. Behold, children are a heritage from the Lord, the fruit of the womb a reward. Like arrows in the hand of a warrior are the children of one's youth. Blessed is the man who fills his quiver with them! He shall not be put to shame when he speaks with his enemies in the gate."  Psalm 127