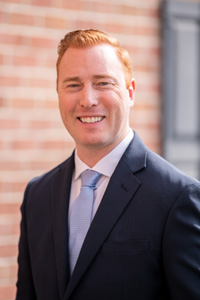 Client Service Associate
Craig joined Ambassador Advisors in March 2022 after previously working in the construction industry for 10 years as a Project Manager. While contemplating a career change in pursuit of a more purposeful career, he realized financial advising would be a career where he could find purpose and encourage people to be good stewards of the assets God has given them.
Family & Hobbies
Craig was born and raised in St. Louis, Missouri, and is the youngest of three siblings. He enjoys traveling, exercising, golfing, flying, attending professional sporting events and concerts, as well as volunteering at various organizations within the community. One of Craig's most passionate hobbies is aviation. As a flight instructor, Craig recognized his passion for helping people achieve their dreams which, through this experience, was a catalyst to financial advising.
Education & Experience
Webster University – MBA
Dave Ramsey Financial Coach
Why I like working at Ambassador Advisors…
Craig enjoys helping clients achieve their financial goals and dreams while promoting Biblical Responsible Investing.
Favorite Verse & Quote
"To those who use well what they are given, even more will be given, and they will have an abundance. But from those who do nothing, even what little they have will be taken away." Matthew 25:29
"Work willingly at whatever you do, as though you were working for the Lord rather than for people." Colossians 3:23
"Success is…knowing your purpose in life, growing to reach your maximum potential, and sowing seeds that benefit others." – John Maxwell
"One mile of highway will take you one mile, but one mile of runway will take you anywhere." – Author Unknown
Email cenz@ambassadoradvisors.com.