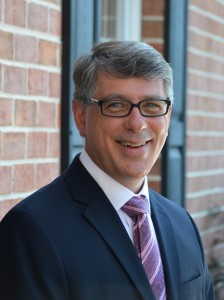 Financial Advisor
Dirk joined the Ambassador Advisors team in 2014.
Family & Hobbies
Dirk lives in Endwell, NY, with his wife Brenda and daughter Mackenzie. His son lives in Orlando, FL. His diverse hobbies include maintaining his stunning 220-gallon saltwater fish tank, traveling, and chauffeuring his daughter to synchronized swimming, the Maine-Endwell Varsity Dive & Swim team practice and meets, piano lessons, and other school functions.
Education & Experience
Dirk Olds earned a four-year degree from West Virginia University in Education. After 10 years in the service industry, Dirk felt a calling to helping others and worked to become a financial services representative in 1993. His successful career began as an advisor with two major insurance companies. Following a promotion to manager, he started his own firm.
Community Involvement
Dirk enjoys community service, as evidenced by his diverse résumé of activities. He is a past president of the Tri-Cities Opera Company, the treasurer of his daughter's synchronized swimming team, and serves on the Finance Committee for the Endwell United Methodist Church.
Why I like working at Ambassador Advisors …
I am blessed to be surrounded by colleagues, staff, an executive team and clients that have the same values, concerns and love for what we do and who we do it for.
Favorite Verse & Quote
Let us remain as empty as possible so that God can fill us up.  -Mother Teresa
Email dolds@ambassadoradvisors.com
Check the background of this Investment Professional
---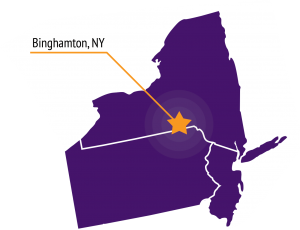 OUR LOCATION
1249 Upper Front St., Suite 108
Binghamton, NY 13905
Call
Our office is on Route 11 (Upper Front Street), with easy access to Route 17, I-81, and I-88.
Learn with your friends!
Group educational opportunities for your church, nonprofit organization, neighborhood, or small group Bible study.
Ambassador Advisors offers educational opportunities on many topics, for any group. Want to learn about how the COVID-19 pandemic is affecting the financial markets and your retirement savings? Need help planning for retirement and college savings? Looking for the best ways to financially support charities and your church, while also leaving a legacy for family? We can help!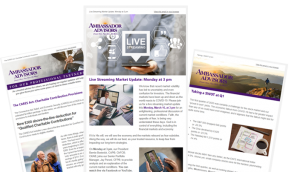 Sign Up to Receive Our Informational Emails