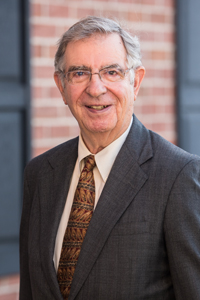 Financial Advisor
George is a financial advisor who helps individuals, families, and organizations capitalize on the resources God has entrusted to them as good stewards.  He is active in his church and serves as a Trustee and as Chairman of the Investment Committee.  He also provides financial consultation to the Samaritan Counseling Center.  George is also an advisor to the Mount Joy Chamber of Commerce.  George joined the Ambassador team in 2013.  George has 17 years experience in the financial planning field, following his career in educational leadership and technology.  He earned his BS at Millersville University, a Master's Degree and Specialist Degree in Instructional Systems Technology from Indiana University in Bloomington, IN, and a Doctorate in Educational Leadership from the University of Pennsylvania.  Also, George spent twenty years as an adjunct professor of Education at Millersville University, West Chester University and Wilkes University.  He enjoys analyzing the stock market, music, theatre, photography, and traveling across our own magnificent country and around the world with his wife, Linda.  George has two married children, and he has four grandchildren born within a six-year span.  He lives in Lancaster and is a life long resident of Lancaster County.
Favorite Bible Verse
"Make me to know your ways, O Lord; teach me your paths." (Psalm 25:4)
Email gzook@ambassadoradvisors.com.
Check the background of this Investment Professional
http://brokercheck.finra.org/
Learn with your friends!
Group educational opportunities for your church, nonprofit organization, neighborhood, or small group Bible study.
Ambassador Advisors offers educational opportunities on many topics, for any group. Want to learn about how the COVID-19 pandemic is affecting the financial markets and your retirement savings? Need help planning for retirement and college savings? Looking for the best ways to financially support charities and your church, while also leaving a legacy for family? We can help!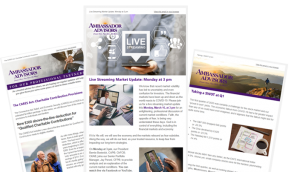 Sign Up to Receive Our Informational Emails