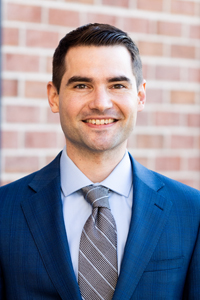 Financial Advisor
Jon joined the Ambassador Advisors team in March of 2021. Prior to that he had 7 years of industry experience as a financial advisor with a national financial services firm. While interning for a financial firm in college, Jon discovered a career calling to continue helping people manage their finances. He loves getting to know his clients, and his main goal is establishing long-term relationships built on trust.
Family & Hobbies
Jon grew up in Morgantown, PA, as one of 6 siblings. He learned the value of hard work by working on his grandfather's farm, and later with his dad as a drywaller through high school. Currently he enjoys any type of competitive sport, and stays active in basketball, soccer, and softball leagues. His other hobbies are more laid back, consisting mainly of fishing, golfing, and following all Philly sports teams. Jon attends Worship Center in Leola, and lives with his wife Kristyn on a farm near Mount Joy.
Education & Experience
Jon graduated from Messiah College with a degree in Business Administration, and also enjoyed 4 years on the baseball field and the lasting friendships that were built there.
Why I like working at Ambassador Advisors …
I really enjoy working with a team of people who have similar values and are moving towards a common goal.
Favorite Verse & Quote
Teach me your way, Lord, that I may rely on your faithfulness; give me an undivided heart, that I may fear your name. I will praise you, Lord my God, with all my heart; I will glorify your name forever. Psalms 86: 11-12
Email jlapp@ambassadoradvisors.com.
Learn with your friends!
Group educational opportunities for your church, nonprofit organization, neighborhood, or small group Bible study.
Ambassador Advisors offers educational opportunities on many topics, for any group. Want to learn about how the COVID-19 pandemic is affecting the financial markets and your retirement savings? Need help planning for retirement and college savings? Looking for the best ways to financially support charities and your church, while also leaving a legacy for family? We can help!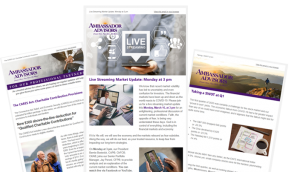 Sign Up to Receive Our Informational Emails