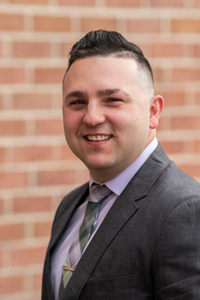 Financial Advisor
Joey worked in retail and operations management for ten years before the financial services industry. Joey was at a national financial services firm for three years before joining Ambassador Advisors in November of 2019. Joey is a graduate of Liberty University with two Bachelor degrees in Business Administration: Marketing & Business Administration: Project Management, as well as a minor in finance and economics. Joey loves when his clients turn into friends, which happens quite often. Joey believes that trust is the key to a successful plan.
Joey was born in Brooklyn, New York, and has strong family ties to New York. Joey enjoys completing diy projects, attending sporting events, and spending quality time with family and friends. An avid Yankees fan, Joey has always looked up the leadership qualities of Derek Jeter; work harder than anyone else, surround yourself with good people, treat everyone fairly, be who you are, and enjoy yourself, to name a few.
Joey has served on the board of St. Paul Christian Early Learning Center for three years, and has been the Chairman for two years. Joey likes to teach his kids the value of money, how to live in the moment, and that failing is the best lesson as they grow up. Something that was taught to him from his late grandfather, a defector of the Cuban Revolution.
Joey lives in Lititz with his wife, Jamie and two kids, Jace and Josephine.
Email JLeon@ambassadoradvisors.com.
Learn with your friends!
Group educational opportunities for your church, nonprofit organization, neighborhood, or small group Bible study.
Ambassador Advisors offers educational opportunities on many topics, for any group. Want to learn about how the COVID-19 pandemic is affecting the financial markets and your retirement savings? Need help planning for retirement and college savings? Looking for the best ways to financially support charities and your church, while also leaving a legacy for family? We can help!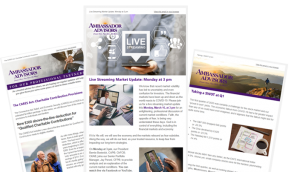 Sign Up to Receive Our Informational Emails