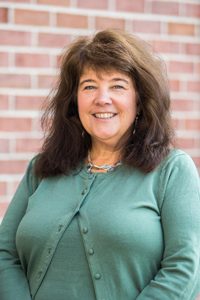 Team Development Associate

Keri has lived in Lancaster County all her life and loves this area. She enjoys working with and meeting new people which makes the reception desk a perfect home! Previously, she spent many years working as a secretary for a local school district, a clerk for Lancaster County, a library aide at a local library, and a pool monitor in her community. This background has given her a wide range of experience working with people from all walks of life.
Keri has two sons. Her youngest is currently serving in the Army, and her oldest works for Lancaster County as an administrator. Keri has a dog and a cat. For fun, she enjoys walks, visiting local antique shops/flea markets, and going to dinner with family and friends. Keri is crafty and likes to make things, particularly working with paper. She sings with the choir and worship team at her church, Memorial United Methodist in Quarryville, PA.
Favorite Bible Verse & Quotes
Jesus replied: "'Love the Lord your God with all your heart and with all your soul and with all your mind.' This is the first and greatest commandment. And the second is like it: 'Love your neighbor as yourself.' All the Law and the Prophets hang on these two commandments." (Matthew 22:37-40)
"In a world where you can be anything, be kind." (Jennifer Dukes Lee)
"Blessed are the flexible, for they shall not be bent out of shape!" (Pastor Shauna Ridge, MUMC)
Email kraugh@ambassadoradvisors.com
Learn with your friends!
Group educational opportunities for your church, nonprofit organization, neighborhood, or small group Bible study.
Ambassador Advisors offers educational opportunities on many topics, for any group. Want to learn about how the COVID-19 pandemic is affecting the financial markets and your retirement savings? Need help planning for retirement and college savings? Looking for the best ways to financially support charities and your church, while also leaving a legacy for family? We can help!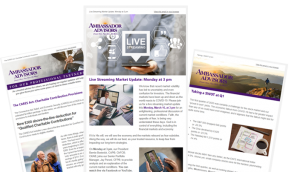 Sign Up to Receive Our Informational Emails