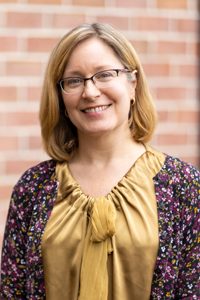 Client Relationship Manager
Originally from Virginia, Lori went to high school in Berks County, and then went to Millersville University, where she obtained a BA in English.  She then obtained a Master's in Library and Information Science from Louisiana State University.  After spending some time in librarianship, she worked for over ten years at Susquehanna Bank, first as a Commercial Lending Administrator, and then in Risk Management there as a Records and Business Recovery Liaison.
She next spent five and half years working for WSP, an international engineering firm, as the Records Manager for their US offices.  She is blessed and honored to have the opportunity to bring her various skills and experience together to serve at Ambassador Advisors.  Lori is currently working towards obtaining licenses that will facilitate her ability to support client needs and to become a growing asset to her team.
In her spare time, Lori enjoys hiking with her husband, who is an avid wildlife photographer, through the preserves and game lands of our beautiful state of PA, as well as other locations, whenever possible.  Lori is a member of Westminster Presbyterian Church of Lancaster, and she likes to read, make jewelry, crochet, sew, hear live music, visit museums, and spend time with family members who live in Lehigh County.