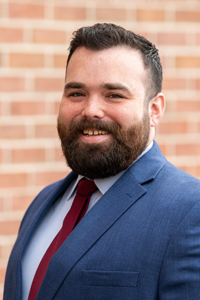 Associate Portfolio Manager
As Ambassador's associate portfolio manager, Matt is a liaison between advisors and the wealth management team, developing policies, and procedures to ensure the best service for everyone.
Family & Hobbies
Matt loves the outdoors, being involved with youth ministry, MMA, card & board games, and watching sports. Matt and his wife, Kiley, have two children, Remmi and Maddux, and a golden retriever, Milo.
Education & Experience
Matt graduated from Penn State University with a B.S. in Finance. He participated in Army ROTC and served as a youth pastor. After an internship with AgChoice Farm Credit as a credit analyst, Matt worked at an advisory firm in Corning, NY, as a trader and analyst, where he continued his work in youth ministry and served as treasurer of a regional orchestra.
Community Involvement
An active volunteer, Matt has travelled extensively to help others, including Texas, Haiti, New York City, and Northern Ireland.
Why I like working at Ambassador Advisors …
I enjoy applying market and industry knowledge in tangible ways to an assortment of people, backgrounds, and needs.
Favorite Verse & Quote
"Now faith is the substance of things hoped for, the evidence of things not seen." Hebrews 11:1
Email mmelott@ambassadoradvisors.com