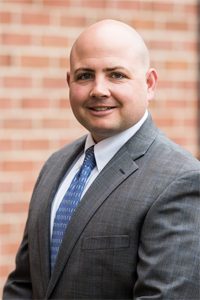 Director of Operations
Bob joined Ambassador Advisors in March of 2019. He provides leadership and oversight to the internal operations of the firm. He works as part of the executive team to collaborate with company leaders to develop and advance strategic goals and drive results. Bob is responsible for leading and executing tactical initiatives, implementing industry best practices to increase efficiencies and productivity while adding scale to the back office. He works closely with the teams across the firm to ensure operational success and cultivate excellence to effectively grow the organization.
Family & Hobbies
Bob resides in Landenberg, Pennsylvania with his wife MacKenzie and son Brooks. He enjoys spending time with family and friends, especially at the beach, cycling, going for hikes, doing DIY projects around the house, golfing, and rooting for his favorite football team, the Cleveland Browns.
Education & Experience
He earned his M.B.A. with a concentration in Finance and a B.S. in Organizational Management from Wilmington University. Prior to joining Ambassador Advisors, Bob spent 12 years with Tiedemann Advisors in various operational roles, most recently as the Director of Operations.
Community Involvement
As a teenager, Bob achieved the highest honor of Eagle Scout. He has also spent time volunteering as an EMT and in youth ministry.
Email bnayden@ambassadoradvisors.com.
Learn with your friends!
Group educational opportunities for your church, nonprofit organization, neighborhood, or small group Bible study.
Ambassador Advisors offers educational opportunities on many topics, for any group. Want to learn about how the COVID-19 pandemic is affecting the financial markets and your retirement savings? Need help planning for retirement and college savings? Looking for the best ways to financially support charities and your church, while also leaving a legacy for family? We can help!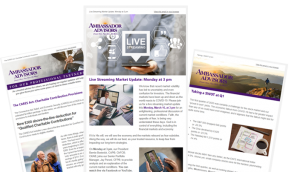 Sign Up to Receive Our Informational Emails