Financial Advisor
Russ joined Ambassador Advisors in 2019 as a Financial Advisor after working for over twenty-five years in the financial services industry. Russ has a passion for helping individuals, business owners, and ministries reach their financial goals and maximize the stewardship of God's resources.
Russ's previous work experiences includes serving as a Financial Advisor for a wealth management firm in the Washington, D.C. area, seventeen years with a global investment firm, and time as a small business owner of a financial consulting business. He is a CERTIFIED FINANCIAL PLANNER (CFP™)  and Certified Investment Management Analyst (CIMA), and he serves on the Board of Directors and Investment Committee of the United Methodist Mid-Atlantic Foundation. Russ also has served as a local coordinator for the Dave Ramsey Financial Peace University program and a Board member of the United Way of Chester County.
Russ resides in Chester County, PA, and enjoys cycling in the many scenic roads of Pennsylvania. He is active in his local church, Hopewell United Methodist Church, and has served in a variety of volunteer roles, including Finance Committee, Hospitality ministry, and small group leader.
Email rcampbell@ambassadoradvisors.com.
Check the background of this Investment Professional
http://brokercheck.finra.org/
Learn with your friends!
Group educational opportunities for your church, nonprofit organization, neighborhood, or small group Bible study.
Ambassador Advisors offers educational opportunities on many topics, for any group. Want to learn about how the COVID-19 pandemic is affecting the financial markets and your retirement savings? Need help planning for retirement and college savings? Looking for the best ways to financially support charities and your church, while also leaving a legacy for family? We can help!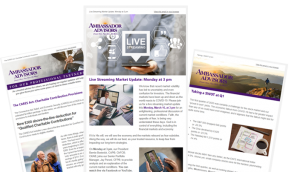 Sign Up to Receive Our Informational Emails