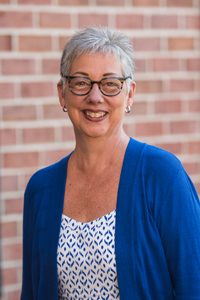 Team Development Associate
Sherrie is the first face and voice at Ambassador Advisors. She truly enjoys welcoming clients to the office, making them feel welcome and assisting clients who call in to be directed to appropriate team members. In her role as Office and Personnel Coordinator, she oversees many office functions, provides administrative support for all departments and assists with personnel on-boarding & training.
Sherrie has a B.S. degree in Business Administration and for many years, owned her own business. She and her husband, Craig, live in Mount Joy with their border collie. They have four adult children, two daughters-in-law and two grandchildren. Sherrie and Craig are actively involved at their church, Lancaster Evangelical Free Church, often share their testimonies to encourage individuals & small groups, and feel blessed to mentor young couples. Sherrie loves spending time with her family, vacationing, cooking, entertaining and reading.
Favorite Bible Verse & Quotes
"Do not let any unwholesome talk come out of your mouths, but only what is helpful for building others up according to their needs, that it may benefit those who listen." (Ephesians 4:29)
"You can't go back and change the beginning, but you can start where you are and change the ending." (C.S. Lewis)
"Act as if what you do makes a difference.  IT DOES." (William James)
Email speters@ambassadoradvisors.com
Learn with your friends!
Group educational opportunities for your church, nonprofit organization, neighborhood, or small group Bible study.
Ambassador Advisors offers educational opportunities on many topics, for any group. Want to learn about how the COVID-19 pandemic is affecting the financial markets and your retirement savings? Need help planning for retirement and college savings? Looking for the best ways to financially support charities and your church, while also leaving a legacy for family? We can help!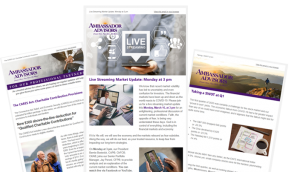 Sign Up to Receive Our Informational Emails