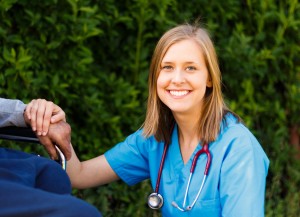 Understand the Challenges Your Employees Face
As the United States population ages, caregiving is becoming a frequent topic of conversation. Many families deal with very difficult decisions as to who will take care of their parents or grandparents in the event care will be needed. Will a family member be able to take on the challenge of being a primary caregiver, or will paid care be needed?
Of course, for most, the first option is to find a way to pay for and provide one's own care. This is not an easy undertaking, since the cost of care is rapidly increasing. If one seeks to pay one's own way, the question becomes whether you have enough money or assets to pay for your care. Let's look at an example: First, let's assume you want to stay in your home and receive care, but you only need care for 10 hours per day. Let's continue and assume the average cost per hour for in-home care is $20. This totals $6,000 each month (assuming 30 days in a month) or $72,000 a year. What if you want to move into a long-term care facility instead? Well, let's assume the average cost is $250 per day with an average of 30 days per month. This equates to $7,500 a month or $90,000 a year. So, the question is one of how long your assets will last and what options you have. If you have liquid assets totaling $500,000, this would allow only one person to receive care for approximately 9 years at home (not counting utilities, taxes, and other "at home" costs) or 5.5 years in a community, assuming no inflationary or other factors. What if both people need care? You can easily see how assets are eaten up and estates can be dwindled down to nothing. Because these numbers can become so daunting, many are forced to rely on willing (and sometimes unwilling) family caregivers.
Most of these caregivers have good intentions and commit to doing whatever it takes to care for their loved one. Unfortunately, it's not always the most realistic path. For example, how will they juggle their career, family, and marital commitments while caring for a loved one? Will their employer understand and support them through this time, which may last several years? Will they have the stamina and physical ability to care for this person? Many clients tell us they strive to care for loved ones in the event they need care. While this is a commendable approach, it is not always possible due to the commitment required. Most people who do find themselves in this role end up suffering in many different ways. They often are less productive at work, become physically exhausted, and suffer from various forms of depression. As an employer, it is critical to understand these dynamics and prepare to provide help.
Ambassador Advisors is a Registered Investment Advisor. Securities offered through American Portfolios Financial Services, Inc. of Holbrook, NY, 631-439-4600 (APFS), member FINRA, SIPC. Investment Advisory Services offered through Ambassador Advisors, LLC. Ambassador Advisors is not owned or operated by APFS.
Any opinions expressed in this forum are not the opinion or view of Ambassador Advisors or American Portfolios Financial Services, Inc. (APFS). They have not been reviewed by either firm for completeness or accuracy. These opinions are subject to change at any time without notice. Any comments or postings are provided for informational purposes only and do not constitute an offer or a recommendation to buy or sell securities or other financial instruments. Readers should conduct their own review and exercise judgment prior to investing. Investments are not guaranteed, involve risk and may result in a loss of principal. Past performance does not guarantee future results. Investments are not suitable for all types of investors.