Getting rich quick sounds like a great idea, but experience tells us that there is always a price to pay; there is never a "free lunch." At Ambassador Advisors, we focus on finding companies making a positive difference in our world, while also avoiding companies operating with questionable ethics, no matter how profitable.
"Wealth gained hastily will dwindle, but whoever gathers little by little will increase it." – Proverbs 13:11
One way that investors can earn some incremental gains is through dividends. Recently, due to continued market turbulence and historically low interest rates, our investment team has put a special focus on finding companies that pay dividends. Of course, dividend-paying companies provide two opportunities for growth: dividends and appreciation in value.
Earlier this year, dividend stocks hit a rough patch. Many of these companies sold off more than the broader markets, as income investors fled to safety. We remained invested in some of our favorite dividend-paying companies despite the selloff, as we expected them to bounce back. That's exactly what occurred!
Lower interest rates have brought income investors back into the stock market. This has helped dividend stocks regain some steam, as investors have been seeking higher yields than bonds, CDs, and money markets. Now that dividend stocks are back in vogue, this trend should continue for several reasons.
Over the last month, we have seen a rotational correction, where investors have taken profits on some of the higher-flying growth stocks and rolled some of these profits into undervalued dividend stocks. Many of the stocks in our portfolios have benefited from this rotation.
At the most recent Federal Open Market Committee (FOMC) meeting, the Fed stated it remained committed to keeping rates low and using its full range of tools to support the U.S. economy during the pandemic. With key interest rates expected to remain near 0% for the foreseeable future, the Fed has continued to purchase Treasuries and mortgage-backed securities, which has helped keep rates steady and provided liquidity to the bond markets.
This, however, has also flattened the yield curve, making it difficult for investors to capture much income through bonds. The 10-year Treasury recently hit 0.5%, which is the lowest level in 234 years!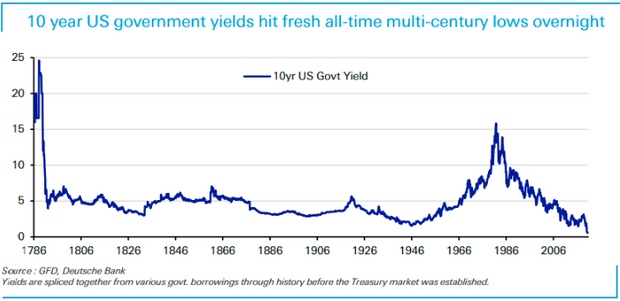 Since bottoming a couple of weeks ago, the 10-year Treasury yield has stabilized, and the yield is now near 0.7%. This is still far less than the yield (anticipated dividends) on the S&P 500, currently 1.85%, and the Dow, which is currently yielding 2.32%.
All told, with interest rates so low, dividend stocks are some of the best places to invest for income in the current market. With the stock market's path likely getting bumpier over the next couple of months, we remain focused on high quality companies, especially those which pay dividends. We believe this focus will provide the best solution to help you continue to make gains, little by little, so you can achieve your financial goals.
Sources: Yahoo Finance, Reuters.com, and JP Morgan Market Insights
Any opinions expressed in this forum are not the opinion or view of American Portfolios Financial Services, Inc. (APFS) or American Portfolios Advisors, Inc.(APA) and have not been reviewed by the firm for completeness or accuracy. These opinions are subject to change at any time without notice. Any comments or postings are provided for informational purposes only and do not constitute an offer or a recommendation to buy or sell securities or other financial instruments. Readers should conduct their own review and exercise judgment prior to investing. Investments are not guaranteed, involve risk and may result in a loss of principal. Past performance does not guarantee future results. Investments are not suitable for all types of investors. To the extent that this material concerns tax matters, it is not intended or written to be used, and cannot be used, by a taxpayer for the purposes of avoiding penalties that may be imposed by law. Each tax payer should seek tax, legal or accounting advice from a tax professional based on his/her individual circumstances.
This material is for informational purposes only. Neither APFS nor its Representatives provide tax, legal or accounting advice. Please consult your own tax, legal or accounting professional before making any decisions. Information has been obtained from sources believed to be reliable and are subject to change without notification. The information presented is provided for informational purposes only and not to be construed as a recommendation or solicitation. Investors must make their own determination as to the appropriateness of an investment or strategy based on their specific investment objectives, financial status and risk tolerance. Past performance is not an indication of future results. Investments involve risk and the possible loss of principal.