Last week, the Federal Reserve Bank (the Fed) gave an update on the status of the U.S. economy. Even though COVID-19 cases have continued to decline from the August peak, the Fed is still concerned with the economic recovery process. To date, many companies are still having trouble clawing their way back from the damaging global pandemic.
The Fed remains committed to keeping interest rates near 0% through 2023, in order to provide support for continued economic recovery. The Fed is anticipating that full-year 2020 Gross Domestic Product (GDP) will drop by 3.7%, which is far better than the earlier forecast of a 6.5% decline. This improvement indicates that the V-shaped economic recovery remains a likely outcome.
As many businesses continue to recover from the global shutdown, most market analysts have become more optimistic about third-quarter earnings and sales results. In fact, the analyst community revised their estimates higher for the first time since the second quarter of 2018, as many are now expecting much better results than previously forecasted.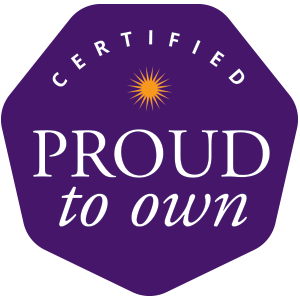 Nevertheless, we still anticipate COVID-19 will continue to have a lingering impact on many S&P 500 company results for the foreseeable future. According to FactSet Research, S&P third-quarter 2020 earnings are forecasted to decline 22.2%. Although not "great," this number is better than the previously expected decline of 25.4%. However, third-quarter revenue is also expected to drop 3.9% compared to Q3 2019.
The good news is the "Proud to Own" stocks we have hand­ selected are not expected to report negative earnings or declining sales growth. Instead, we have focused on companies that are able thrive in the current market environment. This approach means that any market dips (like we have seen recently) provide a good buying opportunity.
The recent market correction has provided a good entry point for investors. Since the first week of September:
The Dow is down 5.3%
The S&P 500 has fallen 7.5%
Nasdaq dropped 10.6%.
We anticipate stocks to trend higher over the next several weeks, as market volume starts to pick back up. Good earnings results in the third quarter and positive economic news should provide catalysts for higher stock prices in the near term.
Many may find difficulty investing in uncertain times, like now, but if your goals are many years away, "time in" the market is much better than "timing" the market." Trying to pick when to be in or out of the market is very difficult.
As you consider investing, today, here's a reminder of God's word to you from Ephesians 5:16-17: [make] the most of every opportunity, because the days are evil. Therefore do not be foolish, but understand what the Lord's will is.
We can always find reasons "not to invest," if we look at the world around us. There have been world wars, presidential elections, pandemics, market bubbles, difficult economic times, and a myriad of other instances that create fear and uncertainty. But, just as in the Parable of the Talents, we are called to multiply all He has entrusted to us.
If you still have money still sitting in cash, now is a great time to get some of that money invested before third-quarter earnings season kicks off in October. Our portfolios are currently positioned to prosper in the upcoming weeks, and we do not want you to miss the next move higher.
Sources: Yahoo Finance, Reuters.com, and JP Morgan Market Insights
Any opinions expressed in this forum are not the opinion or view of American Portfolios Financial Services, Inc. (APFS) or American Portfolios Advisors, Inc.(APA) and have not been reviewed by the firm for completeness or accuracy. These opinions are subject to change at any time without notice. Any comments or postings are provided for informational purposes only and do not constitute an offer or a recommendation to buy or sell securities or other financial instruments. Readers should conduct their own review and exercise judgment prior to investing. Investments are not guaranteed, involve risk and may result in a loss of principal. Past performance does not guarantee future results. Investments are not suitable for all types of investors. To the extent that this material concerns tax matters, it is not intended or written to be used, and cannot be used, by a taxpayer for the purposes of avoiding penalties that may be imposed by law. Each tax payer should seek tax, legal or accounting advice from a tax professional based on his/her individual circumstances.
This material is for informational purposes only. Neither APFS nor its Representatives provide tax, legal or accounting advice. Please consult your own tax, legal or accounting professional before making any decisions. Information has been obtained from sources believed to be reliable and are subject to change without notification. The information presented is provided for informational purposes only and not to be construed as a recommendation or solicitation. Investors must make their own determination as to the appropriateness of an investment or strategy based on their specific investment objectives, financial status and risk tolerance. Past performance is not an indication of future results. Investments involve risk and the possible loss of principal.