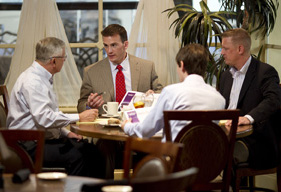 Planning out your retirement income can be difficult and may feel like putting together pieces of a puzzle. Below are some ideas for where you can look for potential income when nearing retirement.
Social Security
According to the Social Security Administration (SSA), almost 9 of 10 people aged 65 or older receive Social Security benefits. However, most retirees also rely on other sources of income.
For a rough estimate of the annual benefit to which you would be entitled at various retirement ages, you can use the calculator at www.ssa.gov. Your Social Security retirement benefit is calculated using a formula that takes into account your 35 highest earning years. How much you receive ultimately depends on a number of factors, including when you start taking benefits. You can begin doing so as early as age 62; however, your benefit may be 20-30% less than if you waited until full retirement age (65 to 67, depending on the year you were born). Benefits increase each year you delay taking benefits until you reach age 70.
As you're planning, remember that the question of how Social Security will meet its long-term obligations to both baby boomers and later generations has become a hot topic of debate. This may introduce additional uncertainty about Social Security's role as part of your overall long-term retirement income picture, and put more emphasis on other potential income sources.
Pensions
If you are entitled to receive a traditional pension, you're lucky; fewer Americans are covered by them every year. Be aware that even if you expect pension payments, many companies are changing their plan provisions. Ask your employer if your pension will increase with inflation, and if so, how that increase is calculated.
Part-Time Work or Other Income-Producing Activities
Many retirees plan to work part time for at least a while in their retirement years, whether in a fulfilling second career or consulting/freelance assignments. Obviously, while you're continuing to earn, you'll rely less on your savings, leaving more to accumulate for the future. Remaining employed also may provide access to affordable health care.
Be aware that if you're receiving Social Security benefits before you reach your full retirement age, earned income may affect the amount of your benefit payments until you do reach full retirement age.
If you're covered by a pension plan, you may be able to retire, then seek work elsewhere. This way you might be able to receive both your new salary and your pension benefit from your previous employer at the same time. Also, some employers have begun to offer phased retirement programs, which allow you to receive all or part of your pension benefit once you've reached retirement age, while you continue to work part time for the same employer.
Ambassador Advisors is a Registered Investment Advisor. Securities offered through American Portfolios Financial Services, Inc. of Holbrook, NY, 631-439-4600 (APFS), member FINRA, SIPC. Investment Advisory Services offered through Ambassador Advisors, LLC. Ambassador Advisors is not owned or operated by APFS.
Any opinions expressed in this forum are not the opinion or view of Ambassador Advisors or American Portfolios Financial Services, Inc. (APFS). They have not been reviewed by either firm for completeness or accuracy. These opinions are subject to change at any time without notice. Any comments or postings are provided for informational purposes only and do not constitute an offer or a recommendation to buy or sell securities or other financial instruments. Readers should conduct their own review and exercise judgment prior to investing. Investments are not guaranteed, involve risk and may result in a loss of principal. Past performance does not guarantee future results. Investments are not suitable for all types of investors.