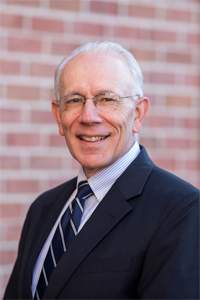 Financial Advisor
Lenny has been in financial services since 1995, joining Ambassador Advisors in 2008. His focus is on helping individuals and ministries improve stewardship through cohesive financial planning to maximize saving and giving.
Family & Hobbies
Lenny and his wife, Margaret, have five adult daughters, live in Lancaster, and enjoy all the time they can get with grandchildren. Lenny also enjoys a variety of sports, working in the yard, and reading.
Education & Experience
Lenny earned a BA in Physical Education and Health from Carthage College and a BA in Bible Theology from Moody Bible Institute.
Community Involvement
Lenny is actively involved in Westminster Presbyterian Church, primarily via youth group and senior high Sunday school.
Why I like working at Ambassador Advisors …
I appreciate the clear and "up-front" focus on the stewardship of all that God entrusts to us. This extends to the guidance given to clients and the way in which our "team" seeks to work together.
Favorite Verse & Quote
"do not be anxious about anything, but in everything by prayer and supplication with thanksgiving let your requests be made known to God. And the peace of God, which surpasses all understanding, will guard your hearts and minds in Christ Jesus." Philippians 4:6-7
"Thy love to us in Jesus is firm and changeless, nothing can separate us from it, and in the enjoyment of it nothing can make us miserable." (from The Valley of Vision)
Email lmarsch@ambassadoradvisors.com.
Check the background of this Investment Professional
https://brokercheck.finra.org/
Learn with your friends!
Group educational opportunities for your church, nonprofit organization, neighborhood, or small group Bible study.
Ambassador Advisors offers educational opportunities on many topics, for any group. Want to learn about how the COVID-19 pandemic is affecting the financial markets and your retirement savings? Need help planning for retirement and college savings? Looking for the best ways to financially support charities and your church, while also leaving a legacy for family? We can help!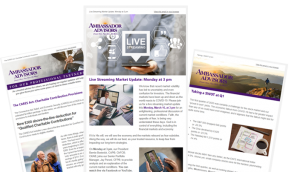 Sign Up to Receive Our Informational Emails